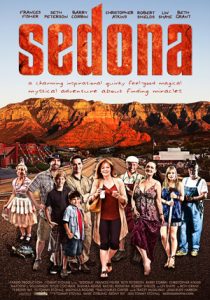 Sedona is a funky town in central Arizona, one of our favorite places to visit. Sedona is also a 2011 indie film, a comedy-drama that, unfortunately, not a whole lot of people got to see. That's a shame, because the movie more than capably reflects both the stunning beauty of the area and the quirkiness of its inhabitants through the telling of a couple of parallel stories. And it all begins with a kid's balloon…
KARMA HAPPENS
Amid the opening credits we get to see Sedona and its environs from above, the same as the tour plane just below us. We also meet Scott and his partner, Eddie, who have come to Sedona with their two young sons for some much-needed R&R—primarily for fussy, uptight lawyer Scott, who makes Felix Unger look like a slob. Their seven-year-old son, Denny, has been given a balloon by a vendor, but the string slips out of his hand and soars away.
At the same time we meet middle-aged Tammy, a successful, barracuda-like advertising executive driving to Phoenix for a meeting with a potentially huge client. She has gotten off the main highway by accident and is not thrilled to be in this crummy little town. When the tour plane, which has encountered engine problems, makes an emergency landing behind her, Tammy's car is forced off the road and sustains damage. Her belligerent behavior at the body shop causes the chilled-out owner to make her wait most of the day while he fixes it—at an exorbitant price. Her subsequent (excessive) bitching hints at a troubled past.
WORKAHOLICS ANONYMOUS
When Scott and Eddie take Denny and older brother Jeremy on a hike, we get to witness more of Sedona's splendor. Scott fusses over every move the kids make, while Eddie tries to get him to chill. He also noodges Scott about his workaholic tendencies, which Scott vigorously defends. Hmm, what is it about Scott's past that we don't know yet?
When Denny wanders off and becomes hopelessly lost, Scott freaks out to the max. The men split up to look for him, Scott teaming up with a helpful local named Chuck, a Native American with a calming demeanor—quite a contrast to Scott's freneticism. We can only hope that some of it will rub off on Scott.
As she impatiently waits for her car and bemoans the potential loss of her client, Tammy encounters a parade of quirky locals. There is Deb the psychic, and Alana the young, aspiring jewelry designer, and middle-aged Pierce, who works at the coffee shop, and especially Claire, an elderly lady who dresses like a little girl and believes every day is her birthday. Their tolerance of Tammy's obnoxious behavior will launch our barracuda on a much-needed spiritual transformation.

To tell you much more about this film would be cruel on my part, so I'll stop here. Suffice to say that the magic of Sedona will merge the two storylines in a remarkable and empowering way—and you'll find out what the balloon had to do with it. I love Sedona the film, the same as I love Sedona the place, and you just might feel that way too.