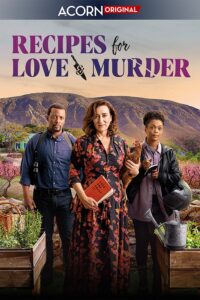 My bride and I have gotten hooked on a new "dark comedy/mystery" series on Acorn TV. Recipes for Love and Murder, based on the Tannie Maria mystery novels of Sally Andrew, takes place in the rural South African town of Eden. That's a misnomer, because this Eden is anything but a paradise.
FOOD CAN CURE ALL (OR MOST) ILLS
Irish actress Maria Doyle Kennedy stars as Maria Purvis, known to all in town as Tannie (Auntie) Maria. A writer for the town's small newspaper, she's penned a food column for years. But times are changing, and if she wants to keep her job at the struggling paper she'll need to switch to an "advice for the lovelorn" column. No problem; she skillfully combines her passion for food with her compassion for people, and the column is a success.
But one letter writer, a woman named Martine, is married to an abusive asshole of a man. As Tannie Maria reads her letter, we actually see the poor woman being brutalized by her husband. This greatly affects Tannie Maria, as it appears—in flashbacks—that she also was the victim of an abusive marriage. Early on she helps the woman with one of her recipes, but before she can take it any further, Martine is murdered. And later on a neighbor, who might have witnessed the killer, also turns up dead. Martine's husband seems the obvious perp in her death, but hold the phone…
BAKE A CAKE AND FIND A KILLER
Just like any amateur sleuth, Tannie Maria will lock horns with the local constabulary, primarily Chief Inspector Khaya Meyers, as she hunts for clues. She tempers his frustration with her—a little, anyway—by bringing an amazing cake, and other goodies, to the stationhouse. It appears she is on the right track when her own life is put in danger.
The cast includes a number of quirky characters, some of whom assist Tannie Maria in her sleuthing efforts. Hyper exercise nut Hattie Wilson is her editor at the newspaper, which is located at the back of a butcher shop. Jesse September is a young, talented writer who accompanies Tannie Maria on some of her investigations. She even has allies on the police force, all of whom succumb to her cooking and baking at some point. And, of course, there is no lack of suspects in this small (minded) town.
The initial season (hopefully not the last) of Recipes for Love and Murder consists of ten episodes, the first six of which have already aired. While solving Martine's murder is the ongoing thread, each episode has its own story, usually one that links to Tannie Maria's column. When discussing this series my bride and I often use the words "different" and "unique." I admit to having a "meh" attitude going in, but now I eagerly await the denouement. And I'll keep taking notes whenever Tannie Maria makes one of those amazing cakes!