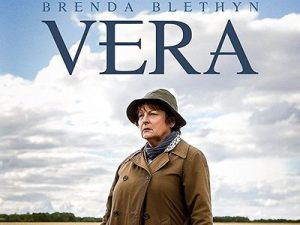 She's old; she's short; she's disheveled; she's irascible. She's also brilliant. She's Detective Chief Inspector Vera Stanhope, head of the Major Crimes unit of England's (fictional) Northumberland & City Police.
DCI Stanhope is the main protagonist in a series of novels by British author Ann Cleeves, as well as the long-running TV crime drama, Vera. Having concluded its tenth season earlier this year (forty episodes, four per year, about ninety minutes each), the immensely popular show has been renewed for season eleven, and production is already underway.
Vera is brilliantly portrayed by Brenda Blethyn, a two-time Academy Award nominee. By the time season eleven airs next year, she'll be pushing 75 years of age. But just like her character, Blethyn shows no signs of slowing down.
"IN YOUR FACE, LUV!"
I've never been good at solving mysteries, whether in books, on TV shows or movies. In recent years, having watched so many of them, I've gotten a wee bit better. But trying to match wits with Vera Stanhope? Forget it. I lucked out with a couple of episodes early on, but for the most part I didn't have a clue whodunit. The writing is top-notch, and the stories keep viewers riveted right up until the denouement.
At the outset of the series we learn that Vera, a loner who is obsessed with her work, is driven by personal demons, usually ones connected to her relationship with her recently deceased father. She even moves into his isolated cottage, where she is haunted by various memories. (In the excellent episode 36, "The Seagull," Vera is still dealing with issues involving her dad.)
Despite her small stature and Columbo-like appearance, Vera has no problem getting into the faces of her team, her suspects, or anyone else. She can come off as a sweet old auntie—she calls everyone "luv" or "pet"—or she can scare the crap out of men half again her size. Still, she is fiercely loyal to her team, which consists of one Detective Sergeant and a number of Detective Constables. In an episode where one of her team is murdered, Vera is absolutely devastated.
DON'T LOOK FOR LAUGHS HERE
The Northumberland region is located in the northernmost portion of England, where it borders Scotland. This makes for some challenging accents by the actors and may necessitate the use of closed captioning. We don't use the cc, and for the most part we manage okay. A member of Vera's team, DC Kenny Lockhart, is played by a Scottish actor, and initially his brogue was our biggest obstacle. But again, we grew accustomed to it.
Also, much of the Northumberland area is rather bleak, which reflects the general tone of the series. There aren't many laughs in Vera, so don't expect the lightheartedness of Midsomer Murders or The Brokenwood Mysteries. To me, this is a positive thing. The stories are intense, well-written, and we often found ourselves saying "Wow!" at the end of a particular episode.
The ten seasons of Vera are split between the streaming services Acorn and BritBox. For mystery lovers, we highly recommend it.