Since this post first ran in 2019, My Life is Murder moved to Auckland, New Zealand for seasons two and three and is still going strong.
New Zealand actress Lucy Lawless is best known for her iconic, kick-butt role as Xena: Warrior Princess, in a syndicated television series that ran for 134 episodes from the late 1990s through 2001. She has hardly lacked for work since then, with numerous film and TV roles. Now, in her early fifties, she has found a great niche as executive producer and star of a "crime-drama-mystery" series (with a touch of humor), titled My Life is Murder—a double entendre if there ever was one.
AN AUSSIE PRODUCTION NOT FILMED IN SYDNEY?
Lawless plays Alexa Crowe, formerly a detective on the police force in Melbourne. Her late husband, also a cop, had been killed in the line of duty a couple of years earlier, prompting Alexa to retire from the force. Now, she bakes a lot of bread, plays video games, exercises, and for the most part tries to figure out what to do with the rest of her life.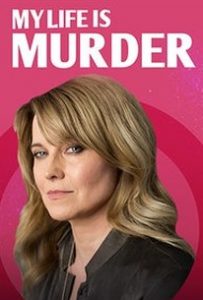 But given her excellent skills as a detective, she is recruited—in every episode—by her former boss, Detective Inspector Kieran Hussey (Bernard Curry) for her help in solving cold—sometimes even warm—cases that have baffled the department. She always refuses at first, but ultimately takes them on. Needless to say, she does a great job in solving the murders, oftentimes putting herself at risk.
Her "family" consists of Hussey; a young, enthusiastic techie and wanna-be detective named Madison Feliciano (Ebony Vagulans); and George Stathopolous (Alex Andreas), a café owner with whom Alexa barters her bread for coffee and food. The city of Melbourne itself serves as a "character" (so does Auckland) as we get to see a good deal of a place with which most of us are unfamiliar.
The first series of My Life is Murder, which is available in the U.S. on Acorn, consists of ten episodes, each about forty-five minutes. Jacqueline and I binged it, of course, and we totally enjoyed the stories. A second series, while not carved in stone, appears inevitable, and if that happens, the entire main cast has committed to returning. (As noted, the pandemic played a large role in the show relocating to New Zealand.) That would make me a happy camper.