Rich guy Roger Dorn (Corbin Bernsen) is the third baseman for the Cleveland Indians in the outrageous 1989 sports comedy, Major League. Dorn is also a philanderer, which prompts his wife, Suzanne, to exact revenge by seducing the team's star pitcher, Ricky Vaughn (Charlie Sheen). When she tells her husband what she's done, Dorn is out for a piece of Vaughn's hide. (Is that a double standard? Well, of course.)
WILD THING!
On the night of a game with the Yankees that could propel the Indians into the playoffs, Vaughn opts to stay far away from Dorn—in the bullpen. But with the score tied in the ninth inning, two outs and the bases loaded, Vaughn is summoned to pitch to the opposition's best hitter. (Vaughn's entrance from the 'pen to the tune of Wild Thing is my favorite scene.) Is he distracted by fear of what Dorn might do to him? You bet.
Luckily, Dorn is more interested in winning the game—for the moment. He joins Vaughn on the mound and tells him, "Let's cut through the crap, Vaughn. I only got one thing to say to you: Strike this motherfucker out!" (Which, of course, Vaughn does.)
A FAVORITE LINE
Being a huge baseball fan in general, and specifically a San Diego Padres fanatic, that last line has stuck with me for decades. I've likely used it during games about 1,783,496 times in my life…give or take. But it is not just an arbitrary thing. There are certain times when I utilize it in an effort to invoke the Baseball Gods. I thought I'd share the formula with you, perhaps so you can adapt it to your own team's pitchers.
To begin with, I keep all of my motherfuckers in my Motherfucker Bag, which is closed for most of the game but is always nearby in case of emergencies. For the most part I open the Motherfucker Bag in the seventh inning and invoke the Dorn Mantra till the last out when a Padres pitcher has two strikes on the opposition's batter. Doesn't work all of the time, but it's still worth the effort.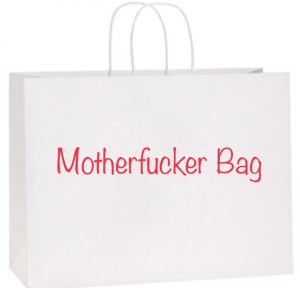 There are exceptions, oh yes. If the game is a blowout—by either team—I'll likely leave the Motherfucker Bag closed. No sense wasting a good motherfucker.
But what about the opposite? Do I ever open the Motherfucker Bag before the seventh? Oh indeed, whenever there is a situation is an earlier inning where an opposing team could break the game open with a timely hit. The Dorn Mantra could be just the ticket.
And of course, the Motherfucker Bag is open in the first inning of every game against the L.A. Dodgers.
You're welcome. Hope this helps. Sorry about all of the motherfuckers—but I'm sure Samuel L. Jackson would enjoy this post. 😊