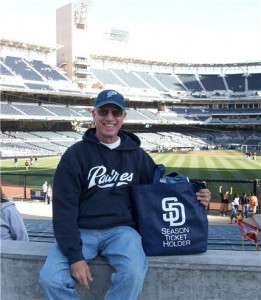 Last week my bride and I were among the 10,000+ fans (20% of capacity at Petco Park, thanks to Covid-19) to attend Opening Day for the San Diego Padres, my favorite team. Padres baseball being my religion, I could not have been happier. Here is a post that I've run at the start of previous baseball seasons.
As I've written a number of times before, my two favorite movies ever are Field of Dreams and Frequency. Both are fantasies, and both are baseball-themed, the latter less so, but with a meaningful baseball subplot. Enough said about them. To welcome in the baseball season—and in keeping with the theme of this blog—I offer a lesser-known but entertaining baseball fantasy film: The Scout.
Released in 1994, The Scout did not do well at the box office. Reviews were mixed, though Time magazine's Richard Schickel called it "…the best comedy-fantasy about baseball ever made…" The film stars Albert Brooks as New York Yankees scout Al Percolo, and Brendan Fraser as baseball player extraordinaire Steve Nebraska.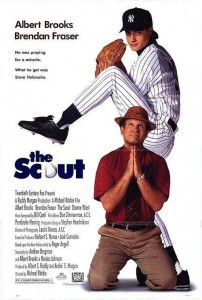 The story, with spoiler alert: after finding some questionable prospects for the team, Al is banished to the hinterlands of Mexico. There, he discovers young Steve Nebraska in a small village that worships him like a god. On the mound, Steve strikes out every batter he faces on three pitches with a devastating fastball, and at the plate he hits a home run virtually every time at bat. (I told you this was a fantasy.) The excited Al calls the Yankees and tells them that he's returning with the greatest ballplayer ever. They tell him not to bother and fire him.
Undeterred, Al flies to New York with the immature Steve and, acting as his agent, arranges an audition for all interested teams. Steve dazzles, and suddenly there is a bidding war, which the Yankees win. But his subsequent bizarre behavior leads the Yankees to insist that he has a psychiatric exam so that he won't turn out like some of Al's previous prospects. Al picks a shrink out of the Yellow Pages, the first on the list, "H. Aaron," a baseball name if he's ever seen one. But H. Aaron turns out to be a woman (Dianne Wiest), and she's not about to sign off on Steve, a seriously troubled young man, as she discovers when she delves into what appears to be an abusive childhood. Al makes a deal with her: sign off on Steve so they can collect his bonus, and then she can counsel him all she wants. She agrees.
Steve's contract calls for him to pitch next season, unless the Yankees make the World Series—a longshot at the time. But of course the Yankees get there, and Steve is picked to pitch the first game. He has made strides in counseling but is still pretty messed up and not ready for the big stage. On the night of the game he climbs to the top of the Stadium and refuses to come down. While all who are watching think this is a planned publicity stunt, the desperate Al follows Steve and pleads with him to come down. But when he realizes how screwed up the young man is, he finds his conscience and tells Steve to walk away from it, if that's what he really wants. He'll likely go with Steve, since he will doubtless be persona non grata throughout baseball.
Al's loyalty wins Steve over, and he agrees to pitch. Al orders a helicopter up to fly Steve to the mound, a stunt for which the late Yankees owner, George Steinbrenner, takes credit. (He has a cameo in the film.) Steve proceeds to strike out twenty-seven straight Cardinals on eighty-one strikes, and his two homers are the only runs in the Yankees' victory.
We never do learn what happens after that. The story ends with the perfect game—which, I suppose, is a perfect ending.
Major League Baseball has been around for well over a century, and yet one must marvel at how often something happens during a game that has never happened before. Maybe some young fireballing ace will duplicate Steve Nebraska's feat during the upcoming season. Just sayin'…
Play ball!