Some think of it as the most haunted place in the venerable Georgia city of Savannah. Others call it one of the most haunted sites in America. Whatever the case, Colonial Park Cemetery has a long and chilling history.
THE OVERCROWDED GRAVEYARD
Savannah was the capital of the British province of Georgia at the time the cemetery was established in 1750. It first served as a graveyard for a church but later opened up to all residents of the city, its land area growing to a maximum of six acres. As a public cemetery it filled up quickly, its "forever" residents including 700 people who perished during an 1820 yellow fever epidemic, most of whom were interred in a mass grave. The overcrowded burial ground ceased taking bodies in 1853.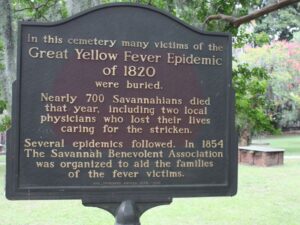 But early on, Colonial Park Cemetery became the primary site in Savannah for dueling with pistols. The governor outlawed the practice in 1809, but numerous duels continued to take place there for decades afterward. The "losers" did not have too far to go, did they?
While no victims of the Civil War were interred at the cemetery, it did serve as temporary "home" to Union soldiers in 1864, during General Sherman's march through Georgia. Some of the soldiers desecrated the headstones, which undoubtedly troubled the spirits of those interred there.
Graveyards in general are known for a great deal of paranormal activity. Between the hundreds of victims of the epidemic, the many people killed in the duels, the desecrated headstones, and various other tragedies, the spirits of Colonial Park Cemetery are known to be quite troubled, and therefore active. To this day folks have reported seeing ghostly figures wandering amid the headstones at night. Strange noises have been heard, and a creepy green mist has often been spotted wafting over the grounds, sort of like the Angel of Death.
THE MONSTER OF SAVANNAH
Among its many spirits is the cemetery's most infamous ghost, a seven-foot giant named Rene Rondelier. During the late eighteenth century this troubled man, possessed of great strength, lived near the cemetery, where he tortured and killed countless animals, including pets belonging to neighbors. A wall was supposedly built to keep him confined in his home, but even that did not stop him. He "graduated" to killing people, especially young girls, whose bodies he would stash in a tunnel that ran beneath Colonial Park Cemetery.
Only after Rondelier murdered two girls and left their bodies just outside the cemetery did residents know for certain that he was the killer. A lynch mob caught and subdued him, then hung him from a nearby tree, leaving him for dead.
So why did similar murders continue long after his death? And why is his huge ghost sometimes seen hanging from that same tree? An apocryphal story? Who knows…
Colonial Park Cemetery is only one of Savannah's haunted sites. Visit Haunted Colonial Park Cemetery – Haunted Cemeteries in Savannah, GA (nightlyspirits.com) for information and a possible tour.