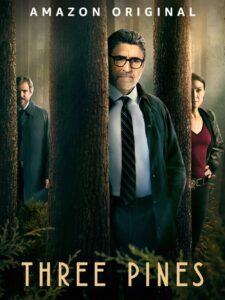 Award-winning Canadian writer Louise Penny is the author of the popular mystery series featuring Chief Inspector Armand Gamache of the Sûreté du Québec police force, which services the sprawling province of Quebec from its headquarters in Montreal. The primary (fictional) setting, located in the rural Eastern Townships, is the seemingly idyllic village of Three Pines…a place where a whole lot of secrets are buried.
WHO KILLED THE NASTY WOMAN?
Given the popularity of the novels (my bride has read all eighteen of them and cannot wait for the next installment), an adaptation on the large or small screen was inevitable. The first appearance of Inspector Gamache was in a 2013 TV movie titled, Still Life: A Three Pines Mystery. British actor Nathaniel Parker portrayed Gamache. But more recently—last month, in fact—Amazon Prime Video premiered an eight-episode series, simply titled Three Pines. Gamache is played by the wonderful actor, Alfred Molina, who does not resemble Doctor Octopus in any way here. He brings to Gamache the warmth and compassion, as well as the crime-fighting skills, that marks the character in the book series.
The eight hour-long episodes comprise four stories, each in two parts. White Out, the first story, is based on Penny's novel, A Fatal Grace. In it, Gamache is sent to the remote village of Three Pines to investigate the murder of author and socialite CC de Poitiers, a horrible woman whom everyone despises, and vice versa. CC even hates her husband and teenaged daughter. There is no shortage of suspects among the eccentric residents of Three Pines, most all of whom came to the village to escape…something. Secrets will emerge during the course of the series, but for now, Gamache has his hands full with solving the murder.
MISSING INDIGENOUS WOMEN AND GIRLS—A SHARED TRAGEDY
In addition to meeting the residents of Three Pines, Gamache finds his crime-fighting team awaiting him. They consist of detectives Jean-Guy Beauvoir and Isabelle Lacoste, and newbie "uniform" Yvette Nichol. It will take them a while to mesh, but mesh they will.
Along with being such a nasty woman, CC de Poitiers displayed considerable hubris when she purchased a large, abandoned building in Three Pines, where she lived with her family. The place once functioned as a boarding school for First Nations children, where the government and the church attempted to "take the Indian out of them" by any means possible, including torture and all manner of deprivation. Sound familiar? America also subjected its indigenous population to the horrors of Indian boarding schools. (See my post, "Kill the Indian, Save the Man.") This house in Three Pines, along with its "ghosts," will play a key role in a later episode.
Another shared tragedy between The U.S. and Canada is the countless missing and murdered indigenous women and girls in recent years. The reason Inspector Gamache was "shipped off" to Three Pines by his superiors was his refusal to let go of a case involving a teenaged girl named Blue Two-Rivers, who disappeared with her boyfriend and his older brother a year earlier. Isabelle Lacoste, also an indigenous woman, will assist Gamache in his relentless pursuit of the truth in this matter, which will span all eight episodes. It is a sobering subplot.
A second season of Three Pines is a certainty. If nothing else, the cliffhanger ending of the last episode heralded that fact. I highly recommend this compelling series.