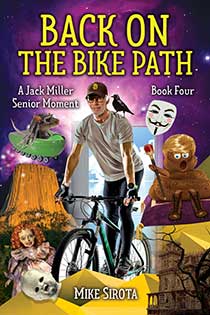 Okay, I don't normally capitalize my headlines, but hey, this is a big deal for me. Somehow Jack's favorite alien, the Old Guy, forgot about him for a long time—but all that has changed. Join an older—and maybe wiser?—Jack as he rides into Edgar Allan Poe's head; as he has a distasteful encounter with the narcissistic King of Turdville; as he passes through the ghastly Galactic Graveyard; as he plays baseball on a Field of Nightmares; as he visits the creepy Island of the Dolls; and so much more. Life will never be the same now that Jack Miller is Back on the Bike Path!
AN INTRODUCTORY NOTE TO THE BOOK
Oh yeah, 2020 was one messed-up year, am I right? But you know, I've always believed in the old cliché of making lemonade out of lemons, and while it hasn't always worked, in this instance it definitely did.
Here I was, stuck at home like so many others thanks to the freaking coronavirus pandemic. At this point I hadn't written a new book in about eight years. And, regarding Jack Miller's adventures along the Ultimate Bike Path, the last book in the original trilogy, The 22nd Gear, had been published twenty-seven years ago. Sure, I reissued the three books a few years back, but that was just to clean up some of the original writing and transfer publication to my own imprint, Atoris Press.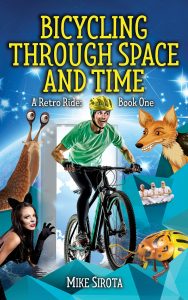 Then, one day, I started thinking about Jack and wondering how his life might have turned out. Was Holly Dragonette indeed his soulmate? Did he have the kind of writing career that he'd hoped for? How did he feel about not returning to the mhuva lun gallee? And how did he—like me—deal with all of the years that had gone by since his last adventure?
Subsequent to that, ideas for new worlds that Jack could visit began filling my head, and I knew that a fourth book was inevitable. Leaving the stories in the '90s made no sense to me. As I said, I've aged, and so has Jack. What is his perspective on life these days, being a (young) senior? How will being so much older affect the way he handles whatever he encounters on his new adventures?
To be honest, I started out writing this book with a bit of trepidation, given my own hiatus from creativity. But it did not take long before I was having an absolute blast riding with Jack on his new adventures. I hope you'll have as much fun reading Back on the Bike Path.
The book is available on Amazon in paperback and Kindle eBook.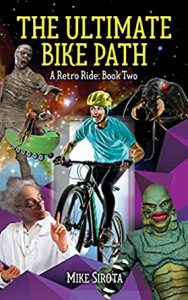 PRAISE FOR THE SERIES FROM READERS
"Anyone who likes cycling, sci-fi, fantasy, or just twisted pun-related humor will love these books. Mr. Sirota demonstrates knowledge in a great variety of fields as well as an imaginative approach to some old plot ideas. The only problem is that I occasionally have to repair my shifter from trying to get it to go into 22nd gear."
"I'm a long-distance trail rider and was just about to give up on finding fiction that isn't race- and mountain-bike based, when I found Mr. Sirota. Finally, a story to think about on the trail! And such a wonderful one, too! Whether you bike or not, this book and its sequels make for a great quickly-paced read, and it never gets boring."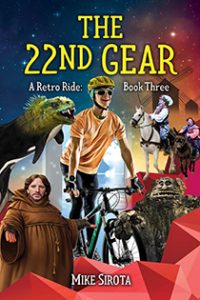 "Awesome book with great stories and fun sense of humor. Very Douglas Adams-esque, and so much fun to read!"