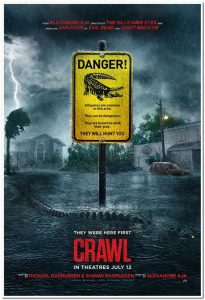 The 2019 creature feature/disaster flick, Crawl, is an anomaly. It did well at the box office, which is not that odd for the genre. But it also garnered its share of excellent reviews, compiling 83% on Rotten Tomatoes, and that doesn't usually happen for creature features. The best part for me is that I agree with all of the accolades. Crawl is a solid, nail-biting movie.
IF THE STORM DOESN'T GET YOU…THEY WILL
With that tagline, one of many (I also got a kick out of Swim Like Hell), here is a brief overview. Haley Keller (Kaya Scodelario), a student/athlete on the swim team at the University of Florida, learns that a Category 5 hurricane is about to make landfall, and people are being evacuated from areas that could be hardest hit. That includes her hometown of Coral Lake, where her father lives. Concerned for his safety, and unable to reach him by phone, she drives there, even bypassing a police roadblock.
Dave Keller (Barry Pepper), her dad, is not at his condo, so Haley heads to their old family house, which he had been renovating. The town is already starting to flood. She finds Dave in the basement, injured and barely conscious, and tries to drag him out. No luck, because their way is blocked by two large alligators. Dave believes they came inside via a flooded storm drain. Only the array of low pipes in the crawl space are keeping the creatures at bay. But with the flood waters rising, they will soon be in some serious shit.
So, the stage is set for some tense, non-stop action as Haley struggles to stay alive and help her injured father, all the while doing battle with the terrifying beasties and the intensifying storm. Other alligators outside the house will enjoy a movable feast, what with cops and looters roaming the street. (Of course there are victims; it's a creature feature!) Her skill as a swimmer will also come into play.
Much of the praise for Crawl had to do with Scodelario's tour de force performance as Haley Keller. I totally agree with that assessment. This film runs a harrowing 87 minutes, and it is well worth the time.