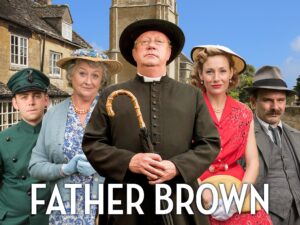 My bride and I love detective shows from the UK, and Father Brown is one of our favorites. Starting in 2013, the series has run for ten seasons and over one hundred episodes. Series 10 premiered earlier this year, and we were pleased—maybe even ecstatic—to learn that two of the longest running, most annoying characters had left for…I don't know, greener pastures? If you're a fan of the series you may disagree with my thoughts, but here goes.
OPEN-MINDED CLERGYMAN—AN OXYMORON?
Father Brown is a character created by English author G.K. Chesterton in a series of over fifty short stories, published between 1910 and 1936. In the current TV series, set in the early 1950s, Father Brown (Mark Williams; yeah, Ron Weasley's dad!) is a Roman Catholic priest and amateur sleuth in the fictional village of Kembleford. Aside from his parish duties, his keen insight into human nature enables him to solve crimes that baffle the local constabulary, much to their chagrin, as he usually embarrasses them. When confronting the perpetrators he offers to hear their confessions without judgment and urges them to admit their crimes to the authorities.
The first season's top cop, Inspector Valentine, actually admires Father Brown and, when he leaves the show at the start of the second series, admits that he will miss him. Not so his replacement, Inspector Sullivan, who has no tolerance for the priest during his two seasons, though that might have changed had he been there longer. (Which it will later on, when Sullivan returns for series 10.)
"I'LL TAKE IT FROM HERE, PADRE"
Which brings us to Inspector Mallory, who served as Father Brown's antagonist for six seasons. He is a short, small-minded man who hides behind a menacing, gravelly voice to command respect—which he doesn't earn—from both the priest and his direct underling, the kind-hearted Sgt. Goodfellow. He is incompetent, often arresting the wrong man/woman, and his contempt for Father Brown, whom he condescendingly calls "Padre," is evident when the priest solves the crime. You would think, with sixty episodes, that Mallory would be grateful to Father Brown for the fact that the killers were put behind bars on his watch, but it never happens. Not even when the good clergyman saves Mallory's life, as well as that of his family, on a number of occasions.
So yes, it pleased me no end to learn that Inspector Sullivan had returned to Kembleford to replace Mallory, whose act had gotten really old by this time. Even better, Sullivan did appear to appreciate Father Brown's help as season 10 progressed.
AWARD-WINNING STRAWBERRY SCONES
Okay, if you disagreed with me about Inspector Mallory, you might even feel more strongly about my other least-favorite character. Mrs. Brigette McCarthy, an elderly lady, serves as Father Brown's parish secretary. She is fiercely loyal to him, even making sure that he eats, something that he occasionally forgets. On a positive note, when it comes to church business, she'll do just about anything for the parishioners, even walking a couple of miles to deliver food to a family in need, or organize a fundraiser.
So what's the problem? Mrs. McCarthy, as opposed to the open-minded Father Brown, is a close-minded woman ruled by church dogma. She is intolerant of anyone who is "different" in her eyes, to the point of bigotry. When the priest offers sanctuary to a group of black musicians, she is just beside herself. And what was, for me, the most telling example: at the start of one episode a white man, who works in Africa but has returned to Kembleford for an event, has brought his Black daughter with him. She is a brilliant young woman and hopes to go to medical school in England. Mrs. McCarthy sees the girl, scowls and clutches her purse tightly to her body. Come on!
In the very first episode of the series, a few minutes in, Mrs. McCarthy brags about her "award-winning strawberry scones." She does this countless mind-numbing times throughout the first nine seasons. She is also the town gossip—something she vehemently denies—and will offer misplaced advice to anyone who will listen. Adhering to church dogma, she tells a woman with a violently abusive husband to stay married to the man, as divorce is not the answer. The woman later commits suicide. This leads to an episode where the woman's sister attempts to kill Mrs. McCarthy for this ill-advised counsel.
In season 10 Mrs. McCarthy has left for Ireland to live with her sister. She is replaced as parish secretary by Mrs. Isabel Devine, a fiftyish widow and mystery buff. She is a bright, enthusiastic woman, as open-minded as Father Brown, and loves helping him solve the latest murder. Isabel smiles more in her first season than Mrs. McCarthy did in her nine seasons, truly a breath of fresh air.
Don't get me wrong: in spite of my two least-favorite characters I totally enjoyed all of Father Brown's exploits. I just feel the two replacements elevated season 10, and I look forward to season 11, which has already been finalized.