Old Heroes And Villains Return To Do Battle Again!
Award-winning author Mike Sirota published many Horror, Sword & Sorcery, Sword & Planet, and Adventure Fantasy novels through the 1980s and '90s. These stories have long been out of print. But Mike is now bringing his stories back to life in newly revised, rewritten editions, both eBook and paper, under his own imprint, Atoris Press. Prince Dulok of Shadzea, Tyron the Kalkh, Ro-lan of Boranga, and others confront monsters, magic, and evil in ancient lands and upon distant worlds. Closer to home, bestselling novelist Paul Fleming does battle with demons both real and imagined at a writers' colony in the High Sierras (Demon Shadows), while Greg Lowell's return to the California town in which he was born unleashes an unspeakable evil from beneath his ancestral land (The Modoc Well).
New books are also forthcoming. Since his return to writing in 2010, Mike has published two horror/ghost stories, one thriller, and a historical novel. In Fire Dance, set in the bleak Anza-Borrego Desert of Southern California, the malignant spirit of a deranged mass murderer who perished more than a century earlier wreaks havoc upon a quiet retirement community. The Burning Ground, which takes place in the foothills of the Sierras, tells the story of a small village of Maidu Indians, all of whom are murdered during the Gold Rush. When their graves are desecrated over 150 years later, the tormented spirits decide that they've had enough. Mike's thriller, Freedom's Hand, was honored by the San Diego Book Awards Association as "Best Action/Thriller, 2013". A white supremacist group, seeking to destroy all minorities, erects a concentration camp on American soil—half a century after the liberation of Auschwitz. Mike's historical novel, Stone Woman: Winema and the Modocs, was honored by the San Diego Book Awards Association as "Best Historical Novel, 2014."
Mike's Updates:
Recently Published!
The Dark Corner, a YA fantasy, is now available in a Kindle edition and in paperback.
Mike's exciting Sword & Sorcery novel, The Talisman of Okorro, is now available as a Kindle eBook and in paperback.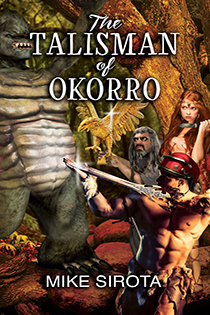 A KINGDOM IN RUINS – Prince Jarrod of Veskia had no choice. With his father, King Vurgus, near death, his depleted and demoralized army surrounded by vast barbarian hordes on a desolate battlefield, Jarrod could only agree to the proposal made by the wizened stranger called Thagor Shen. This sorcerer from a dark and distant land would utilize the powers of a damaged talisman—a solid gold statue of a hawk—to destroy Veskia's enemies and see the triumphant army return to Shordona, capital of the kingdom. In return, Jarrod would seek out the broken piece of the talisman and return it to Thagor Shen. What did the prince have to lose? Not even his father's last words—the only words the comatose Vurgus had spoken in many days—could deter him: "YOU…MUST…NOT…"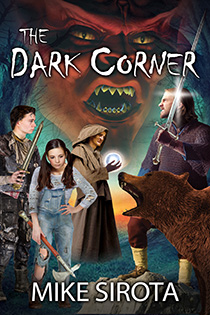 Teen siblings Vall and Corrie lead a peaceful life in the small townlet of South Uncer. But now the long dormant Evil, which once dominated the continent of Edgeland, has begun to re-emerge, its goal to again spread death and darkness across the land. Believing it their destiny to stop Dorgrun, the "face" of the Evil, Vall and Corrie join an unlikely trio: Brendin, a ragged, itinerant busker who may be more than he seems; Guff, his performing bear; and Begen, "an Apprentice Tutor of questionable skills." Their dangerous trek across Edgeland will—they hope—take them beyond the dreaded Crimson Wall to face Dorgrun in—The Dark Corner.