Old Heroes And Villains Return To Do Battle Again!
Award-winning author Mike Sirota published many Horror, Sword & Sorcery, Sword & Planet, and Adventure Fantasy novels through the 1980s and '90s. These stories have long been out of print. But Mike is now bringing his stories back to life in newly revised, rewritten editions, both eBook and paper, under his own imprint, Atoris Press. Prince Dulok of Shadzea, Tyron the Kalkh, Ro-lan of Boranga, and others confront monsters, magic, and evil in ancient lands and upon distant worlds. Closer to home, bestselling novelist Paul Fleming does battle with demons both real and imagined at a writers' colony in the High Sierras (Demon Shadows), while Greg Lowell's return to the California town in which he was born unleashes an unspeakable evil from beneath his ancestral land (The Modoc Well).
New books are also forthcoming. Since his return to writing in 2010, Mike has published two horror/ghost stories, one thriller, and a historical novel. In Fire Dance, set in the bleak Anza-Borrego Desert of Southern California, the malignant spirit of a deranged mass murderer who perished more than a century earlier wreaks havoc upon a quiet retirement community. The Burning Ground, which takes place in the foothills of the Sierras, tells the story of a small village of Maidu Indians, all of whom are murdered during the Gold Rush. When their graves are desecrated over 150 years later, the tormented spirits decide that they've had enough. Mike's thriller, Freedom's Hand, was honored by the San Diego Book Awards Association as "Best Action/Thriller, 2013". A white supremacist group, seeking to destroy all minorities, erects a concentration camp on American soil—half a century after the liberation of Auschwitz. Mike's historical novel, Stone Woman: Winema and the Modocs, was honored by the San Diego Book Awards Association as "Best Historical Novel, 2014."
Take an outrageous bike ride!
Mike's Updates: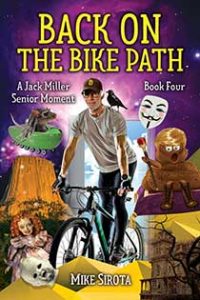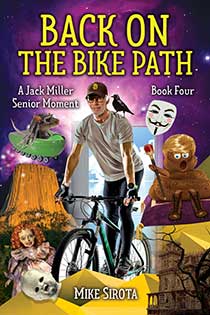 The long-awaited fourth book in Mike's Comedy/Sci-Fi series, Back on the Bike Path, is now available in paperback and Kindle eBook. Join intrepid bicyclist Jack Miller, now older (but is he wiser?), for more outrageous adventures along the cosmic tunnel known as the mhuva lun gallee.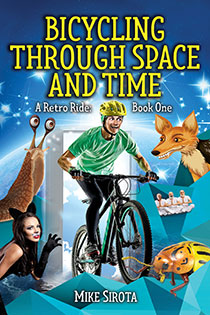 TAKE A WILD RIDE ALONG THE ULTIMATE BIKE PATH! It's a long way from Southern California to a cosmic theme park in the outer reaches of the galaxy. Piece of cake for Jack Miller, whose 21-speed mountain bike has a 22nd gear, embedded there by an alien Study Group, which gives him access to the Universe's greatest bicycling artery, the mhuva lun gallee. Along the way Jack will find numerous "gates" that will lead him to: an encounter with a kid named Adolf Hitler; a descent to the Fourth World of the Navajo; a visit with his favorite deceased singer in the Rock-and-Roll Afterward; and so much more. The outrageous Bicycling Through Space and Time is the first of a series.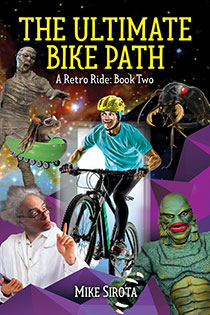 TAKE A RIDE THROUGH THE COSMOS ON A MOUNTAIN BIKE! Jack Miller is back for a second go-around! The alien-implanted 22nd gear on his 21-speed Nishiki is set to take him to some more weird and wild encounters. On his journey Jack will meet the Gill Man from the Black Lagoon; the Swamp Thing; Im-Ho-Tep, the Mummy; Freddy Krueger; the fog-enshrouded crew of the Elizabeth Dane, as well as Dr. Frankenstein and his latest creation, the Creature with the Asshole Brain. And all of that during just one of his detours along THE ULTIMATE BIKE PATH!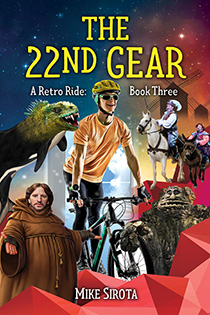 SALLY FORTH WITH JACK MILLER as he rides his mountain bike into a world of literature and joins knight errant Don Quixote de la Mancha on his noble quest to right all wrongs. Or in Jack's case, to wrong all rights. Pedal with him into…Hell? Observe him as he attempts to bring peace to the denizens of a watery world with the help of a killer whale/iguana thing named Jerome. All you need to do is gather up speed and shift into THE 22nd GEAR!