Last week, Iowa. This week, The Bronx. I first presented this post in 2017.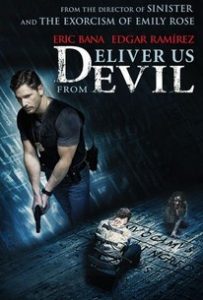 The 2014 supernatural horror movie, Deliver Us from Evil, is "inspired by" the actual experiences of a New York City cop named Ralph Sarchie. I like to think that "inspired by" gives the filmmakers even more creative license than "based on a true story," and I'm sure that's the case with this film. Still, true or not, Deliver Us from Evil has more than its share of disturbing moments.
Last week's post was about a horror movie that took place in Iowa, my bride's place of origin. I was born and raised in The Bronx, so let's just say I'm evening things up here. (Not that I haven't written about horror in NYC's northernmost borough before. See my post, "Wolf Spirits in the Old 'Hood.")
YOU HAVEN'T SEEN TRUE EVIL
With that tagline the story, based on Sarchie's 2001 book, Beware the Night, opens in 2010 Iraq. Three U.S. Marines—Tratner, Griggs, and Santino—come across a cave. Deep inside, there is strange writing on one of the walls. We hear screams, and the feed from their helmet video goes black.
Fast forward to 2013. Bronx cops Sarchie and Butler, on routine patrol in their mean neighborhood, are summoned to a domestic disturbance. The ex-Marine, Tratner, has beaten his wife and now seems crazed. They arrest him, but he injures Sarchie with a knife before succumbing.
At the Bronx Zoo, a woman named Jane has thrown her baby into the moat surrounding the lion enclosure. As they confront her, Jane claws frantically at the ground and recites a line from The Doors' "Break on Through to the Other Side" over and over. When Sarchie sees a hooded painter in the lion enclosure he goes in to question the guy. The lions had supposedly been isolated, but not so, as they menace Sarchie, who barely escapes. The hooded painter disappears.
IS IT…POSSESSION?
A Jesuit priest, Father Mendoza, questions Sarchie about Jane's behavior at the zoo. He seems to know something, but he's not about to reveal it as yet.
Sarchie and Butler respond to another call in a house where there are strange disturbances that seem to be emanating from the basement. Two painters had been working down there: Griggs and Santino, the other ex-Marines. Griggs's decomposing body is discovered in the basement. The cops ultimately connect Griggs with Jane and come to believe that Santino was the painter in the lion enclosure. They also find strange writing on the wall, a duplicate of what we first saw in the cave in Iraq.
Father Mendoza has seen the surveillance tapes from the zoo and believes that Jane has been possessed by a demon. When the skeptical Sarchie watches the tapes again, he sees and hears things that no one else is aware of, leading Mendoza to believe that the cop is susceptible to what he calls primary and secondary evil. These messages (such as the ones written on the walls) pass between demons that are searching for doors from their world to ours. (Hence, "Break on Through to the Other Side.")
Sarchie's obsessive dedication to his work has caused tension at home with his wife and daughter. Now, the demons are frightening his daughter, making things tense.
FROM BAD TO WORSE
Father Mendoza accompanies Sarchie and Butler to an apartment building, where they confront the possessed Santino and Tratner, the latter apparently having been bailed out. Tratner is subdued by the priest's cross, but Santino kills Butler and escapes.
Sarchie's daughter is menaced by the demons and runs screaming from her room, where she runs into Santino in the hallway. When Sarchie arrives home he encounters Santino, who says that he has kidnapped the cop's wife and daughter and hidden them somewhere. If they kill him, the demon will flee his body and Sarchie's family will die. There is only one possible solution, Father Mendoza says: exorcism.
No spoiler alert here; but suffice to say, the ensuing scenes are intense. How much of it is true…well, I don't know. I do believe there is a lot that we don't understand. I also think that pure evil exists—just watch the news or read the paper—and Deliver Us from Evil clearly portrays an extreme version of it. Ralph Sarchie ultimately retired from the NYPD and, according to a note in the end credits, continues to work with Father Mendoza in his struggle against supernatural evil.