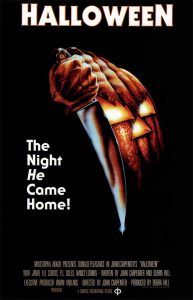 To tell the truth, I don't think any horror movie, past or present, could be much scarier than Year 2020. Am I right? (Well, maybe The Conjuring or The Babadook come close.) And since Halloween falls on a Saturday, otherwise known as College Football Day around our abode, my horror movie viewing may be limited this year. But without a doubt I will find some time to watch the most famous (infamous?) Halloween movie of all.
HALLOWEEN (1978)
Well, of course! This is THE classic Halloween movie. Whatever my other choices are, I watch this one every October 31st. The film was director John Carpenter's first major success in the genre, and it launched scream queen Jamie Lee Curtis into a long and successful career. Made on a budget of $300,000, it grossed about $70 million, making it one of the most successful indie films ever. It carries a 94% rating on Rotten Tomatoes, and a decade ago the Library of Congress selected it for preservation in the National Film Registry as "culturally, historically, or aesthetically significant." All this for a film that barely had a promotional budget back in 1978.
Many people credit Halloween as the first in an endless line of teen slasher movies. Unlike many of its successors, the film has a minimal amount of blood and gore. It is just—well, scary. Its success led to seven sequels, as well as 2007 and 2018 reboots, with yet another one scheduled for 2021. What was original in Halloween became cliché in many of the slasher flicks over the next two decades.
You doubtless know the storyline. With a tagline of, "The Night HE Came Home!" we have six-year-old psycho Michael Myers—in a clown costume, no less—murdering his sister on Halloween in a small Illinois town. He is committed to an asylum but escapes fifteen years later and returns to his hometown to kill some more—on Halloween, of course. Most of his victims are horny teens, but not "good girl" Laurie Strode (Curtis), who will ultimately face off against the "boogeyman." If the tension doesn't get to you, Carpenter's creepy musical score will.
AND JUST IN CASE…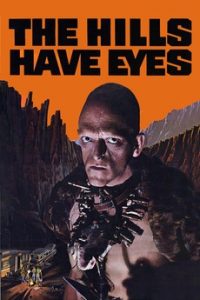 If perchance I have a bit more time I might squeeze in another cult classic from 1977, director Wes Craven's The Hills Have Eyes. I picked up a copy of the film, as well as its sequel, a while back, not having seen either one in decades. This is a lunch loser, a story about a suburban family getting lost in the Nevada desert and encountering a bunch of cannibalistic savages. (The film was actually shot here in California's Mojave Desert, near Victorville.) Sounds yummy, no?
The Hills Have Eyes is based on the true story of Sawney Bean, the head of a family of cannibals in 16th century Scotland. Naturally, I just had to write about it. (Check out my post, "Myths And Legends: The Cannibals Of Ancient Scotland.")
However you spend All Hallows Eve, have a safe one. Here's hoping that next year will not be nearly as frightening as this one.