We writers don't usually find cause to save the country, or the planet, or the galaxy (except in our own stories), so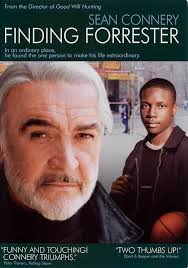 making us the heroes up on the silver screen is not something that gets box office-driven Hollywood all atwitter. That said, there are more movies about writers and writing than one might think.
With that in mind, today's post launches a new series for the blog. My first choice is a particular favorite: the 2000 drama, Finding Forrester, starring Sean Connery and Rob Brown.
I suppose if you want to get technical, this is the second time I've featured a film about a writer. In 2012 I wrote about a little-known movie titled, The Whole Wide World, which chronicled the last couple of years in the life of sword & sorcery author Robert E. Howard, one of my all-time favorite storytellers. This gem starred Vincent D'Onofrio and Renée Zellweger. Check it out.
One other note of interest: in researching lists about movies that feature writers, I noticed that the majority were either foreign films or were ones directed by Woody Allen. Hmm; not being a fan of the latter, my choices might be limited. But, I'll manage.
IN AN ORDINARY PLACE, HE FOUND THE ONE PERSON TO MAKE HIS LIFE EXTRAORDINARY
Sixteen-year-old Jamal Wallace (Brown) attends a run-down high school in The Bronx, where survival is more important than learning. A gifted student, Jamal tries to fit in by maintaining average grades and excelling at basketball. He loves to write and keeps notebooks in his backpack, scribbling down stories and essays whenever possible.
Across the street from where Jamal and his friends play hoops, a reclusive old man (Connery) watches them from his window on an upper floor of a tenement. His friends dare Jamal to climb up and go inside the man's apartment, which he does. The apartment is crammed with books, which fascinates Jamal. When the old man scares him off, he leaves his backpack behind.
The next day the backpack flies from the window and lands at Jamal's feet. His notebooks are intact, and his writing has been redlined, with editing and many critical comments. Stunned, Jamal goes to the man's apartment and asks him to read more of his writing. The old grump tasks Jamal with writing 5,000 words on why he "should stay the fuck out of my home." Jamal does exactly that and leaves it on the man's doorstep the next day.
Because of his outstanding test scores—and even more, his basketball skills—Jamal is offered a free ride at a prestigious prep school, Mailor-Callow. While contemplating this, he returns to the old man's apartment and is invited in. The recluse, he learns, is William Forrester, an author who won the Pulitzer Prize over four decades earlier for his only published novel, Avalon Landing. No one has heard from him since. They make a deal: Forrester will help Jamal with his writing, but Jamal cannot tell anyone about him, nor can he ask about Forrester's personal life.
Jamal chooses to attend Mailor-Callow where, other than academically, he is a fish out of water amid the spawn of rich yuppie scum. His one friend is Claire (Anna Paquin), whose father is on the school's board. Jamal's skill at basketball (he ultimately leads the team to the state finals) wins him grudging acceptance from all but the school's writing instructor, Professor Crawford (Oscar winner F. Murray Abraham).
Jamal's writing improves dramatically with Forrester as his mentor, and the bond between them grows. But the asshole Crawford rags on him and even hints at plagiarism, given the high level of his writing. Crawford puts Jamal on notice. This putz is a frustrated writer of minimal talent and is quite familiar with Forrester's work, even making Avalon Landing required reading.
Jamal convinces Forrester to leave his apartment for the first time in years and go with him to a basketball game at Madison Square Garden. Once there, Forrester is overwhelmed by the crowd and has a panic attack. Jamal instead takes him to Yankee Stadium, which is empty. He had seen an old photo of Forrester and others at the ballpark. Forrester opens up and tells Jamal about his family, specifically his brother, who suffered from PTSD and alcoholism after World War II and later died. That was when Forrester, blaming himself for his brother's death, stopped writing and became a recluse.
Forrester trusts Jamal enough to pull out some of his old essays and have Jamal rewrite or expand upon them, with Jamal's promise to never take them out of the apartment. Jamal uses the title and first paragraph of one particular essay then writes the rest of it in his own words. He decides to enter it in the school's writing contest, not knowing that it had been published decades earlier in the New Yorker magazine. Crawford, in front of the board, accuses Jamal of plagiarism, and unless the boy can receive Forrester's permission—that's impossible, Crawford figures, as Forrester must be long dead—he'll be disqualified from the contest, and likely expelled from the school. Jamal keeps his promise to Forrester and refuses to reveal that he knows him.
Jamal tells Forrester what has happened. The old man is angry about Jamal taking the essay from his apartment. They argue, and Forrester tells him to leave.
The school board comes up with a deal for Jamal: win the state basketball championship and the plagiarism charges will be dropped. Jamal, an excellent free throw shooter, has a chance to do just that with two shots at the end of the game. He misses both—on purpose? More than likely.
SPOILER ALERT: Jamal pours his heart out in an essay to Forrester about the importance of friendship and family but does not give it to him. He has chosen instead to attend the judging of the writing contest, where he will make an apology to the school. His brother finds the essay and gives it to Forrester, who is moved by what the boy has written. Overcoming his agoraphobia, he goes to the school and asks to read Jamal's essay. Given his god-like status there, Forrester reads the essay, and Jamal receives the accolades. The board, above asshole Crawford's protests, withdraws the plagiarism charges. In an emotional scene, Forrester thanks Jamal for his great gift of friendship and says that he will be going back to his native Scotland for a visit.
The story ends a year later when Forrester's attorney (Matt Damon!) tells Jamal that Forrester has died of cancer. He had been diagnosed with it before Jamal met him. There is a letter thanking Jamal for giving him the will to go on living, as well as the keys to his apartment for Jamal to have all of his books. And one more thing: a manuscript, the second novel of William Forrester, which is not to be published until Jamal Wallace has written the foreword.
Finding Forrester is a splendid story, and believe it or not, it did well at the box office. Was it the star power of Sean Connery? Or its excellent reviews and word of mouth? Don't really know—but does it matter?
WRITE ON, OCEANSIDE!
Once again I will be participating in the Write On, Oceanside! Literary Fair on Saturday, July 19th, from 1-4 p.m. This is a free event where participants can meet and talk with Oceanside, California authors (there are lots of us), purchase signed copies of our books, and take part in writing/publishing workshops. For details visit the Oceanside Cultural Arts Foundation website.