I ran this post three years ago, long before I launched my "Films About Writers" series. Given its relevance, I offer it again.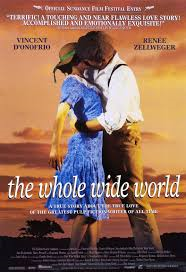 Who knew? While writing a post about Robert E. Howard, the creator of Conan and the acknowledged "father" of Sword & Sorcery, I did research to make sure some of my facts were correct. I discovered that a movie had been made about a portion of his short life—the last year or two, to be precise, when he had a compelling relationship—his only one, apparently—with a woman named Novalyne Price. The movie, titled The Whole Wide World, came out in 1996 and, unfortunately, died a quick death due to little or no promotion or distribution. Luckily, it has since come out on DVD. How could I NOT want to see a film about a writer whose work meant so much to me?
For starters, this is not some cheapo production starring Zelda Higgenbotham and Murray Shlobotnik. Beautifully filmed in rural Texas—Howard lived much of his life in the small town of Cross Plains—the movie featured a young Renée Zellweger long before her Academy Award days as Novalyne Price, and the wonderful Vincent D'Onofrio as Robert E. "Bob" Howard. You Law and Order fans know him as Detective Goren in the long-running series. I liked him best as Edgar, the weird bug dude in the original Men in Black. (That figures.)
The film is based on Price's book, One Who Walked Alone: Robert E. Howard—The Final Years, which she wrote in 1986, fifty years after Howard's death. She met Howard briefly in 1933 through a mutual friend. A teacher, Price came to Cross Plains about a year later to teach English. Also an aspiring writer, she sought Howard out for advice, leaving phone messages with his overly protective mother. Howard never received those messages, so Price, quite a bold woman for her time, decided to call on him.
In one of the film's awesome scenes, Price is about to knock on the door of the Howard home when she hears a man's loud, frenetic voice. She peers in a window, where Howard is bellowing the words to the story that he's violently pounding out on a typewriter. Howard lived his scenes almost as much as he wrote them, and even on a manual typewriter he could produce thousands of words a day.
The subsequent relationship between Price and Howard is alternately warm, confrontational, funny, and antagonistic. After watching the film my wife and I could not help but think that none other than Zellweger and D'Onofrio could have played these roles. In another great scene, the athletic Howard is shadow boxing his way down the street in front of Cross Plains High School. (He wrote many boxing stories.) Price sees him and comes up from behind to say hello. Howard is so intent on his boxing and the story that he's creating in his head that he spins around and almost decks her.
While marriage is discussed, Howard's devotion to his ailing mother (oedipean, many believed) wins out, so Price heads off to graduate school at Louisiana State University in 1936. Soon after, Howard—with his mother near death—commits suicide at the age of thirty. In the film, a devastated Price is on her way back to Texas for the funeral. She sees a magnificent sunrise and is reminded of how Howard taught her to appreciate them. He also taught her how to be the best at what you loved, so she gives up her half-hearted dream of being a fiction writer to become an outstanding teacher.
Fifty years later she felt compelled to tell the story of those couple of years with Robert E. Howard. I'm glad she did. And I'm especially pleased that someone decided it interesting enough to merit a movie. The Whole Wide World is a wonderful film, and it deserves better than it received.
Novalyne Price Ellis died in 1999, at the age of ninety-one.