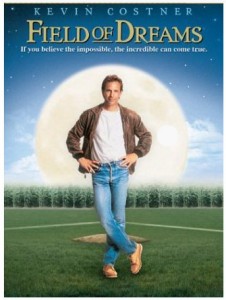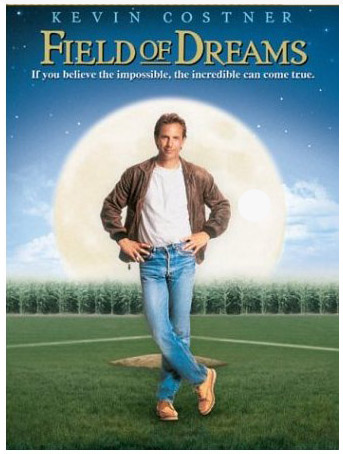 Today—thank the Great Spirit—is Opening Day for my San Diego Padres, and pretty much every other team! A baseball-themed post seems appropriate, so here is one from a couple of years back.
"Three years ago at dusk on a spring evening, when the sky was a robin's-egg blue and the wind as soft as a day-old chick, I was sitting on the veranda of my farm home in eastern Iowa when a voice very clearly said to me, 'If you build it, he will come.'"
Those words were written by the late, great author, W.P. Kinsella, in his 1980 short story, Shoeless Joe Jackson Comes to Iowa, which later became the 1982 novel, Shoeless Joe—which, of course, became the classic 1989 film, Field of Dreams.
This timeless movie—my all-time favorite—became even more entrenched in our consciousness last week when Major League Baseball built a new ballpark right next to the original movie site in Dyersville, Iowa, and hosted a game between the Chicago White Sox and the New York Yankees. Kevin Costner, who starred as Ray Kinsella in the film, emerged from the cornfield, followed by members of both teams. The cornstalks stood—as the song tells us—"as high as an elephant's eye." Everything was "perfect," as Costner said, including the game, which the Sox won 9-8 on a walk-off home run—Hollywood style. No less than eight homers found their way into the corn, which rose just beyond the outfield fence. For Jacqueline and me, glued as we were to our flatscreen, it felt great to revisit the site of one of our most wonderful memories from our thirty-plus years together.
AN UNFORGETTABLE PILGRIMAGE
Wait, did I say "revisit"? Indeed. My bride is an Iowan by birth, and we often went back to spend time with her son, his family, and her parents. My much-loved in-laws, Carol and Jack Benzinger, are both gone now, but a couple of decades ago they lived in a town called Marion, just outside Cedar Rapids. They were always happy to accommodate us when we suggested a road trip to someplace or other, so when we mentioned the Field of Dreams movie site, it became a done deal.
For me, this became more than a road trip. I'd call it a pilgrimage. Marion being only 50+ miles from Dyersville, we made it up there in about an hour-and-a-half—farm roads, you know. Other people were there on a quiet weekday morning, and before long all of us were out on the field with bats, balls, and gloves, playing an impromptu game. It just—happened.
The main theme of the movie, of course, is father-and-son relationships. My dad passed when he was in his fifties. We'd often throw a ball around, until one day he could not even stand up anymore. Broke my heart. So when Ray Kinsella asked his father, "Dad, you wanna have a catch?" Well, do I have to tell you?
On the day we played baseball on the Field, my father-in-law commandeered first base and had an absolute ball running around there. Not long after that trip a number of ailments left him homebound for pretty much the rest of his life. It was the last time we saw him so full of joy. To paraphrase Terence Mann's speech about the Field, it was as if he'd dipped himself in magic waters.
After the game I walked the entire perimeter of the field, stopping for a moment near the corn, and I thought about my dad. Once again, do I have to tell you?
Thanks to everyone that made last week's remarkable—no, PERFECT—event possible.