I cannot write enough about this amazing—and much-honored—film. This post last ran in 2019.
Earlier this year it was announced that the 1998 film, Smoke Signals, was added to the National Film Registry of the Library of Congress as being "…culturally, historically, or aesthetically significant." This is quite an honor for a movie that was made with an all-Native American cast and crew (other than a few cameos by non-indigenous folks).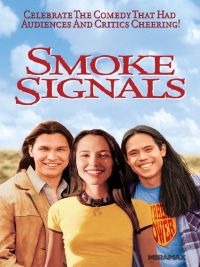 My bride and I love this film and have revisited it many times through the years. It is our favorite Native American film; that's a given. But more than that, it is one of our most beloved films in any genre, period.
When I introduced a new series to my blog, "Native American Film Gems," a few years back, Smoke Signals—based on a short story by Sherman Alexie—was first on the list; a no-brainer, to be sure. Here is that post.
CHILDREN OF FLAME AND ASH
In a brief prologue we see a house aflame on the Couer D'Alene Indian Reservation in Idaho. A baby named Thomas Builds-the-Fire is tossed from a second-floor window and is caught by a man named Arnold Joseph (Gary Farmer). Thomas's grandmother takes him from Arnold, and she then wails as she realizes that the baby's parents have perished in the fire. Arnold's wife, Arlene (Tantoo Cardinal) stands by Arnold with their infant son, Victor.
Two decades later Thomas (Evan Adams) is a sweet, nerdy storyteller who idolizes Victor (Adam Beach), a sentiment hardly returned by Victor, an angry young man who treats Thomas like crap. (Thomas's stories throughout the film, told in a mesmerizing sing-song, are priceless.) Interspersed flashback scenes show them as boys growing up together, their relationship no different than the present. They also portray the reason for Victor's rage. Arnold, his dad, was an alcoholic and was prone to domestic violence before abandoning his family when Victor was ten. (Thomas has some good memories of Arnold, especially one where Arnold took him for breakfast at Denny's. His story about it is one of my favorite scenes in the film.)
LOVE AND HATE
Despite Arnold's abusive behavior, Victor loved his dad and was devastated when he left. He resents him for this, the reason for his anger. When Arlene receives a call from Suzy Song (Irene Bedard), a friend and neighbor of Arnold, telling her that Arnold passed away, Arlene tasks Victor with traveling to Phoenix, where Arnold lived, to retrieve his ashes and his personal effects. Victor reluctantly agrees—though there is a problem. As poor as he and his mother are, he cannot afford the bus fare and other expenses to get there.
Thomas comes to the rescue. He will finance the trip, on one condition: he must accompany Victor. The angry young man grows even angrier, but what choice does he have? Off they go after hitching a ride to the bus station with a young woman whose car only goes in reverse; she can't afford the repairs. Thomas trades a story for the ride—another priceless scene, one of many.
THE REAL WORLD
On the long bus ride to Phoenix—the farthest either of them has ever been from the Rez—Victor and Thomas learn more about each other, and about their unique, challenging heritage. They also encounter their share of bigotry in both the looks and words of the other passengers. In one awesome scene, after being menaced by a couple of asshole rednecks, they suck it up and begin chanting a hilarious song called "John Wayne's Teeth." By this time Victor has talked Thomas out of his braids and suit jacket and into a tee-shirt that says "Frybread Power." Thomas has also let his hair down in what Victor calls the "warrior look."
Arriving in Phoenix, the guys hike out to an isolated trailer park in the desert, where Arnold Joseph lived. They meet Suzy Song, a personable young woman, who turns over Arnold's ashes. Victor cops his usual attitude with Suzy, who appears to have known Arnold quite well, but the upbeat Thomas entertains her with a story about how Victor's mom fed one hundred Indians with only fifty pieces of frybread. (A hoot!) Victor learns more about his dad from Suzy than he had ever known, including the most shocking revelation he could imagine, one that affects both him and Thomas…
I won't say much more about it, in case you've never seen this wonderful film. I'll just mention that the revelation carries Victor through the rest of the story onto the path of forgiveness toward his dad. Regarding this, the film ends with a voiceover of Thomas reciting a poem titled, "How Do We Forgive Our Fathers?" by Dick Lourie. It is, quite frankly, one of the most powerful verses I've ever heard or read. (To read the full text, check out this website.)
Let me share this very personal story with you. Jacqueline and I saw Smoke Signals when it was new, and when Thomas recited the poem, it floored me. I lost my dad when I was twenty-three, and when I heard the line, "Do we forgive our Fathers for leaving us too often or forever when we were little," I totally lost it. My bride just sat quietly until I could get it together and leave the now-empty theater. Talk about cathartic…