It's always a hoot to revisit Snakes on a Plane, a slithery cult classic. This post first ran in 2019.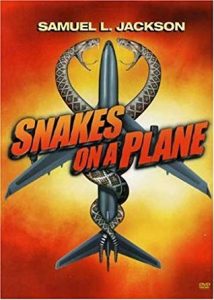 When Samuel L. Jackson was asked to star in the 2006 horror/thriller/comedy film, Snakes on a Plane, he readily accepted. As filming began, the producers thought that a better title would be Pacific Air Flight 121. Jackson told them that the main reason he took the role was because he loved the original working title. Guess what, it was not changed.
That same goofy title also created an Internet sensation prior to the film's release, with fan bases being formed and input offered that necessitated New Line Cinema adding additional days of reshoots. But despite all the buzz, the film was hardly a box office smash. Still, it earned many positive reviews, and it remains a cult classic to this day.
AIRLINE FOOD AIN'T WHAT YOU GOTTA WORRY ABOUT…
With that tagline (among others), and no spoiler alert, here is a brief synopsis of the film's outrageous premise. Jackson plays FBI agent Neville Flynn, who is tasked with accompanying—and protecting—young Sean Jones on a flight from Hawaii to Los Angeles. Seems that Sean witnessed a brutal murder by crime boss Eddie Kim, who has since returned to L.A. but left his goons in Honolulu to kill this unwilling witness. The redeye flight will take place on a humongous Boeing 747-400, with Flynn, his partner, and Sean the only occupants in first class. Everyone else has been seated in coach, the other first class passengers bitching and moaning about the inconvenience.
Despite the FBI's attempt to divert any interference by Eddie Kim to another flight, the crime boss knows that Sean is on Pacific Air Flight 121. He arranges for crates of venomous snakes to be put in the cargo hold, where a timing device will release them into the plane once it is in flight. He also arranges for the passengers' departing leis to be sprayed with a pheromone that will drive the snakes crazy and make them aggressive. (Did I say this was an outrageous premise?) To protect himself from this witness, Kim plans to bring the entire plane down and kill everyone aboard.
THE ECSTASY, AND…OH, THE AGONY!
With the flight well underway, we see the countdown clock reach zero. The crates of snakes are blown open, and the slithery things—the most we've likely seen since Indiana Jones went down into the Well of Souls—make their way into the cabin. One viper causes an electrical short, and when the pilot goes to check it out, he is killed. Co-pilot Rick and flight attendant Claire (Julianna Margulies) determine that he suffered a heart attack. They continue on to LAX, rather than turn back, since they're already past the halfway point.
A young, horny couple back in coach is having sex in one of the bathrooms when they are killed by a large snake. In another bathroom, a guy is taking a leak when a snake rises up from the toilet and latches onto his johnson. (Aiyee, chee-wa-wa!) Yes, I'm sure all those of my gender felt that one. These are the first passengers to buy the farm.
When co-pilot Rick is attacked in the cockpit he accidentally releases all of the oxygen masks in the cabin. Now the snakes drop down in droves from the rafters, and the shit really hits the fan on Flight 121. More passengers die after being bitten by the most venomous of the critters, while others, also bitten, require antitoxin—which, of course, is not readily available—for slow-acting venom. They make their way to the front of the plane, where a hastily constructed barrier temporarily holds the snakes at bay.
Things only devolve from there, despite FBI agent Flynn's attempts to maintain some semblance of order. The worst of it comes when Flynn opens the cockpit door, only to find the co-pilot dead amid a horde of snakes both large and small. LAX is not that far off, but how are they going to reach the controls? And even if they do, who's going to land the freaking plane? Flynn must have that in mind when he glares at the snakes and shouts one of the most iconic lines in all of filmdom…
Which you'll read about next week, as Snakes on a Plane is a treasure trove of great lines, so an entire post will be devoted to them. This film, of course, is not for everyone, and I must admit that I'd avoided watching it until earlier this year, because it just sounded…well, silly. But the goofiness takes place amid plenty of tense, scary scenes, and the acting is solid. This is definitely on my once-a-year viewing list until the Mother Ship returns for me.