Lots of folks missed this wonderful film. I first presented this post in 2019.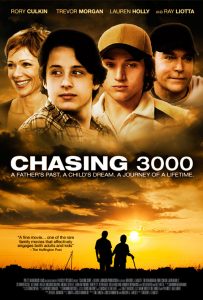 Inspired by a true story, Chasing 3000 (2010) is, of course, a baseball movie, one that highlights the legendary Pittsburgh Pirates outfielder, Roberto Clemente. But transcending that, it is a moving testimonial to the powerful bond that exists between brothers, especially when those siblings undertake a seemingly impossible feat: traveling cross-country during the final week of the 1972 season with the hope of seeing Clemente achieve hit number 3,000, a great milestone in baseball.
BACK TO THE BURGH
Teen brothers Mickey and Roger share a great love of baseball, especially when it comes to their favorite player, Roberto Clemente. Older sibling Mickey is an athlete, while Roger, who has Muscular Dystrophy (MD), can only root his brother on from the stands. Pittsburgh natives, the boys live with their mother, Marilyn, and Poppy, their grandfather; their father had abandoned the family years earlier.
When Roger's condition worsens, Marilyn and the boys move to California; she hopes that the change of climate will benefit her younger son. Roger takes the move in stride, but Mickey, who loved living in the "Burgh," is beside himself. His rebellious behavior causes additional stress in the family.
As Roger deals with bronchitis, an expected symptom of MD, the final week of the 1972 baseball season finds Roberto Clemente approaching 3,000 hits. Mickey swears that he will be on hand to see Clemente achieve this, whatever it takes. With his mom away on a brief business trip, he will drive her car—he only has a learner's permit—from L.A. to Pittsburgh, and damn the consequences. He will have someone check on Roger till their mom returns.
No way, says Roger. He's not staying behind. Seeing Clemente get that hit means just as much to him. So with his wheelchair and crutches in back of the station wagon, the determined siblings head back to the "Burgh."
THE KINDNESS OF STRANGERS
Things initially go well, but as they drive across New Mexico Roger's bronchitis sends him into spasms of coughing. And guess what, they forgot his medicine. Mickey drives them to a hospital ER, where they acquire the necessary drugs and get back on the road. But it now seems obvious that Roger should never have attempted this journey.
By this time, Marilyn has discovered what her boys have done. Frantic, she enlists the aid of law enforcement, and an APB is put out all the way along the potential highways east. By this time the brothers have reached Oklahoma, and Marilyn's car is spotted in the parking lot of a diner, where the pair has stopped for a meal. They manage to elude the police, but the wheelchair, as well as other possessions, are left in the car.
With no money for train or bus tickets, the boys hop an eastbound freight train. They wind up in Birmingham, Alabama, a considerable detour from Pittsburgh, where they learn that Clemente has gotten hit number 2,999. By this time Marilyn has flown to Pittsburgh, and she intercedes when Mickey phones his grandfather. She tells them to wait for her there, but when she arrives in Birmingham, the brothers are gone.
Relying on the kindness of strangers—a motorcycle gang took them to Tennessee, and an old farmer let them use his "retired" taxi for the rest of the trip—Mickey and Roger near their goal. But Roger's health has deteriorated even more, and as they arrive at a small hospital in Ohio, it does not look good for the boy. He urges Mickey to go on without him; at least one of them will be there for the milestone, he reasons.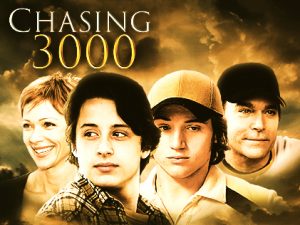 So what will Mickey do? No spoiler alert; I'll end the synopsis right here. Suffice to say, there are some moving scenes yet to come as the bonds of brotherly love will be tested to the max.
There is no secret to the fact that Roberto Clemente achieved his 3,000th hit during the final game of the 1972 season. This feat became even more significant when, on New Year's Eve of that same year, Clemente lost his life in a plane crash at sea as he flew from Puerto Rico on a mercy mission to help earthquake-ravaged Nicaragua. (See my post, "Searching For January.") He was an incredible human being.
Chasing 3000 is an entertaining—and moving—film that hardly anyone saw back when it was new. That is a sad fact. If you're fortunate to find it somewhere—there may be a few copies left for sale on Amazon—you'll see what I mean. I absolutely love this vastly underrated film.