This reimagining of a great haunted house story scared the crap out of viewers. I first presented this post in 2018.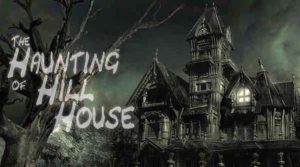 So what did horror-meister Stephen King think about the Netflix series, The Haunting of Hill House, a revisionist version of the 1959 classic ghost story by Shirley Jackson? He tweeted that it was great, practically a work of genius. And remember, he is no fan of revisionist stories, especially in light of what director Stanley Kubrick did to his novel, The Shining. (See my post, "The Ongoing History of The Shining: Part Two.") King disliked it so much that, years later, he would produce his own version of the story.
With regard to the ten-episode series, I totally agree with him. I binge-watched The Haunting of Hill House in two sittings and was sorry that it ended. Mike Flanagan created the series, directed all of the episodes and scripted a number of them. I was already familiar with some of his work after viewing Oculus (2013), a gem of a horror story. (See my post, "Mirror, Mirror…Who's The Deadliest Of Them All?")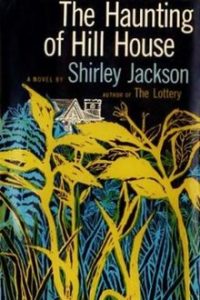 YOU'RE EXPECTED
With that tagline, I offer a bare bones overview of the series, given its length (most episodes are over fifty minutes, some more than an hour) and complexity. The story is told in two primary timelines, one in the present, the other twenty-six years earlier. There are also many flashbacks within flashbacks, but they all serve a purpose in advancing the plot, and at no time did I find myself scratching my head over where or "when" we were.
In 1992 the seven-member Crain family moves into the old New England mansion called Hill House. Parents Olivia (Carla Gugino) and Hugh (Henry Thomas; yeah, from E.T.) are house flippers, and their goal is to renovate the mansion in eight weeks, sell it for a huge profit and then build their forever house, which Olivia will design. Their children are teens Steven and Shirley, middle daughter Theo, and young twins Nell and Luke. (Hey, do you think HGTV would be interested in doing a show about flipping haunted houses?)
THE ADULTS
When we meet the adult siblings in 2018 we immediately note that they are all dealing with a ton of baggage from their brief time in Hill House. We don't know the specifics as yet, but in the first episode we see that, at some point, Hugh fled the house with the kids, leaving his wife behind, and that she died there, likely a suicide. The older Hugh, now played by Timothy Hutton, lives away from all of his children, if not estranged, then at least alienated.
The adult Steven is a successful author, having written a book about the Crains' experiences in Hill House, which has pissed off the rest of his siblings. The tension between all of them is palpable. Shirley has become a mortician, Theo a child psychologist. She wears gloves 24/7 to prevent her from touching people and gaining psychic knowledge of them. Luke is a drug addict who bleeds his siblings dry financially as he enters one rehab facility after another. Nell appears to have suffered the most during their time in the house and, after losing her husband to a brain aneurysm, will be the first to return to Hill House in twenty-six years…
And I'll leave it at that. The Haunting of Hill House offers up enough scares to satisfy horror fans, but at its heart is a compelling tale about a family torn apart by the ghosts of its past, and its attempts to finally confront those nightmares. Be prepared to binge.