This might be one of the guiltiest Guilty Pleasures that I ever wrote about. The post first ran in 2015.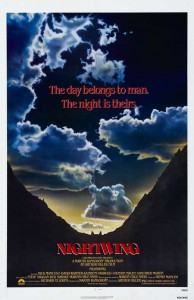 I should feel quite guilty about enjoying Nightwing, the 1979 horror film based on the Martin Cruz Smith novel of the same name—a movie reviled by both critics and viewers alike. But, as usual, I don't give a rat's (bat's?) butthole about what anyone thinks. For sure, Nightwing is not Citizen Kane, but it does have its moments—most of those moments having to do with the story taking place on a fictional Native American reservation in the desert Southwest.
THE DAY BELONGS TO MAN—THE NIGHT IS THEIRS
With that rather bland tagline, the story opens with Maski tribal cop Youngman Duran investigating animal mutilations. (Pronounced MASS-kai, the fictional tribe replaces the Hopi from the novel.) The bites are bone-deep, and there is a strong smell of ammonia. Sounds like vampire bats to me.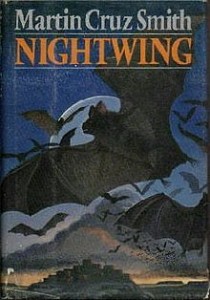 Duran visits the hut of ancient medicine man Abner Tasupi who, a bit stoned on datura root, has decided to end the world for all except his own people. (Datura is a poisonous plant whose root is sometimes used as a hallucinogen.) Duran figures Abner is loopy, but the next morning he finds the old man dead. Shortly after, he finds some sheep mutilated and their shepherd dead.
A man named Walker Chee of the (fictional) Pahana tribe is Duran's antagonist. The wealthy, educated Chee is an "apple" (red on the outside, white inside) who is trying to convince the Maski elders to sell him mining rights to their sacred Maski Canyon, where oil shale has been discovered. He wants word of these mutilations kept under wraps until the deal is done.
A British scientist named Philip Payne lives for one thing only: to hunt and kill vampire bats. Duran runs him off as he tries to take a tissue sample from Abner's body. Duran then buries the old man in Maski Canyon, but before he can fill in the grave, blood seeps from Abner's burial shroud.
THE BATS APPEAR—FINALLY!
Duran's girlfriend, Anne Dillon, is a health worker on the Rez. She is constantly frustrated by the lack of funds that would enable her to offer the Maski better care in a well-equipped clinic. Hoping to solicit money from a Quaker organization, she takes four dorky representatives on what is supposed to be a fun camping trip into the desert.
Duran returns to Abner's grave, only to find it empty. A Maski elder believes that Abner's ghost has risen; Duran thinks that the other Maski priests, who have always feared Abner, removed the body and took it down into their kiva to keep an eye on it. They are presently in the kiva and are not to be disturbed.
Anne and her group are attacked by the bats as they sit around an evening campfire. She is the only survivor, but her vehicle is wrecked and she has no way of contacting anyone for help. She is forced to find a way to survive in the harsh desert for a couple of days. (The bats, by the way, look kind of hokey. Believe it or not, they were designed by the same guy who created E.T.)
DO YOU BELIEVE ME NOW?
Philip Payne has so far been unsuccessful in convincing either Duran or Chee that 1) the vampire bats exist on the Rez, and 2) that in addition to biting people/animals to death, they also carry a virulent plague. But when the Maski priests—a whole lot of them—are found dead in the kiva, their bodies ashen gray, Payne identifies the cause of death as pneumonic plague. Duran wants to call in the CDC and other government agencies, but Chee, still worried about his deal, asks for thirty-six hours, which Payne says that he needs to eradicate the vampire bats. Chee also promises that his physicians will start inoculating people on the Rez. Duran reluctantly agrees to wait.
When bodies from Anne's group are discovered, Duran asks Chee for a couple of his helicopters and some medics to search for his girlfriend. Chee promises to send them, but instead he sends cops to arrest Duran, who manages to avoid them. He then meets up with Payne, who has agreed to help him find Anne. They succeed, but she's in pretty bad shape.
"OPEN YOUR MIND, BOY!"
Duran has also agreed to help Payne find the bats' cave in Maski Canyon. The three of them drive there, and Duran enters by himself. When Abner was alive he had told Duran to chew datura root to open up his mind, which he now does. Abner appears to him, and Duran tries to learn the exact location of the vampire bats, but Abner continues to insist that he's going to end the world.
Payne sets up a protective cage, and when the bats appear after sunset to attack him and the others, he manages to fire darts with homing devices into a couple of them. The next day he knows exactly where to look for the beasties, and off they go…
No spoiler alert; I'll stop here, just in case you're curious enough to check this movie out. I'll say this about its merits: the New Mexico settings are impressive; I especially enjoyed the color and spectacle of the ceremonial rain dance just before the dead priests are discovered. Martin Cruz Smith (Gorky Park, etc.) is an accomplished writer. Arthur Hiller directed Nightwing, and its musical score was done by Henry Mancini. Not a bad pedigree for a film that so many seemed to dislike.