Let's hear it for women who find the courage to tell the patriarchy where to shove it! This post first ran in 2018.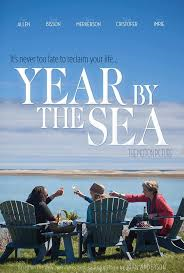 In this, the era of #MeToo, when women are making it clear that they're fed up with the bullshit to which they've been subjected from men since the days of the "goodwife," the 2016 comedy-drama, Year by the Sea, is most timely. Based on a memoir by author Joan Anderson, A Year by the Sea: Thoughts of an Unfinished Woman, the film stars Karen Allen in what I would call a "Coming-Of-Older-Age" story.
IT'S NEVER TOO LATE TO RECLAIM YOUR LIFE
With that tagline—and no spoiler alert—the film introduces us to Joan Anderson, who has been a dutiful wife and mother for three decades. Now, with one of her two sons getting married, she is beginning to question just who and what she is. She's had some modest success as an author, but at this point she hasn't written anything for a while, much to the dismay of her literary agent/best friend, Liz. Her Neanderthal husband, Robin, would have been most comfortable in the days of the "goodwife."
Having always considered himself the family's breadwinner, Robin is now faced with a workplace dilemma all too common to older men: either get laid off or accept a transfer to Wichita, Kansas, far from their home in suburban New York. He chooses the latter but neglects to discuss it with Joan, assuming that she'll go along with anything he says or does. When Joan learns of this at their son's wedding—from a third party, no less—she is rather put out.
Later, at home, after an argument about the move, Joan asks Robin why he loves her. Because she's his wife, he says, and men are supposed to love their wives. And also, he adds, their mothers. Did I say Neanderthal?
WELCOME TO CAPE COD
Choosing not to utter the silent "Fuck you, Robin" rolling around in her head, Joan decides she will not be moving to mid-America anytime soon. A brochure about rental cottages in Cape Cod had caught her interest, and now she arranges to rent one, sight unseen, from afar. Robin sputters, bitches, and moans right up until the moment they both drive off in different directions.
So now this fifty-something, sheltered suburbanite arrives to seek self-realization in a small, tightly knit New England town. The challenges begin on the very first day. Her cottage, it seems, is located on an island out in the bay, and she needs to row there in a dory. Halfway across, her wedding ring slips off and falls into the water. Symbolic, perhaps? And the cottage, which appeared charming and quaint in the brochure, is old and run-down; she even has to pump her drinking and cooking water by hand.
Undaunted, Joan rows back to the mainland the next morning—through a heavy fog that nearly causes her to get lost. On the beach she runs into an elderly woman, a free-spirited, dancing soul who will become her mentor. Also named Joan (Erikson), she is the wife of renowned psychoanalyst/author Erik Erikson, who is now confined to a nursing home, unable to communicate. Later on they will visit Erik, and in a poignant scene the elder Joan will sing to her husband. (Erik Erikson is for real; he is credited with coining the phrase, "identity crisis.")
HANGING WITH THE SEALS
A friendly fisherman named Cahoon takes Joan out on his boat and, at her request, leaves her on an isolated beach teeming with harbor seals. Joan finds peace as she hangs with the animals for much of the day. Later on the handsome, thirty-something Cahoon will hire Joan to work part-time in his seafood store, as well as dig for clams, and there will—of course—be some sexual tension between them on her journey.
By the time Christmas arrives, Joan is well ensconced in her new life and seems to be having a blast (though she still has not resumed her writing). When husband Robin (reluctantly) arrives to spend the holidays with her, he is overwhelmed to see the woman she is becoming. ("You're technicolor," he tells her, "and I'm black and white.") Joan, still wanting their marriage to work, tries—and fails—to ease him into her new reality. Robin finally departs without even a goodbye, only a note.
I'll stop here, lest I give away too much in the second half of the film. Year by the Sea is beautifully filmed on location in Cape Cod, and Karen Allen relates a joyous sense of discovery along her journey of self-realization. While some may perceive this movie as a "chick flick," I believe it has a great message for those of my gender. Check it out.