Four women rewrite their individual stories in their later years. This post first ran in 2018.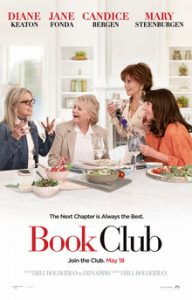 It seems as though, of late, both the big screen and the small screen are paying more attention to those of us who are, uh, a bit older than most. This is true of the 2018 chick flick, Book Club, which offers up a quartet of impressive actresses, all of whom have been around for a long time.
THE NEXT CHAPTER IS ALWAYS THE BEST
With that tagline, here is a brief overview of the film, which is actually four stories in one. Four good friends have participated in a book club for three decades. Despite their friendship, each one's "story" differs from the others at this stage of their lives. Sharon (Candice Bergen), a federal judge, has been single for fifteen years after divorcing her husband. Vivian (Jane Fonda), a wealthy hotel owner, is content to be single and enjoy casual sex. The recently widowed Diane (Diane Keaton) has to fend off her adult daughters and their attempts to have her move to Arizona, where they live, so that they can keep an eye on her. Carol (Mary Steenburgen) has had a successful long-term marriage—until now. Her husband, freaking out over his recent retirement, does not want to have sex with her.
Change is in the wind as they read their next book club selection: Fifty Shades of Grey, by E.L. James. Seems that the contents of this much-maligned bestseller is having an effect on them. (Later on they will also read the book's two sequels.) Diane meets a guy named Mitchell on a flight to Arizona, and despite her not having dated in decades, they strike up a relationship. Vivian encounters Arthur, who loved her and proposed marriage over forty years earlier. She of course turned him down, but now the flame could be rekindled.
As for Carol, well, she's trying everything in the book (literally) to turn her husband on, even spiking his drink with an erectile dysfunction pill, but the poor guy appears dead from the waist down. And Sharon, despite her reservations, signs up with an online dating service (with some hilarious results).
So, there it is. I've laid the groundwork for the four stories, all of which are often humorous and at times poignant. The star power of Book Club made it a box office success, and despite its "chick-flick" persona, this old guy totally enjoyed it. Nice to see there is still plenty of life in those of my generation.