Call them knickknacks, chotchkes, or whatever—I love all my "stuff." This post first ran in 2019.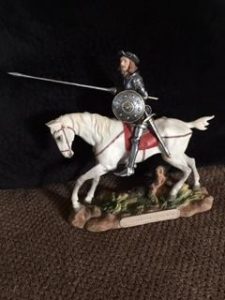 With seven-plus decades in the rearview mirror, I've had plenty of time to collect my share of "stuff." I thought it might be fun to have a look at some of the more interesting things, so consider "Curious Possessions" the first of a new, occasional series for my blog.
I actually did share one of my most curious possessions, a Jack Nicholson snow globe, a few years ago, a gift from my daughter Lindsay. Check out the post, and/or have a look at it below. I also mentioned my collection of around fifty Don Quixote/Sancho Panza pieces in a post titled "Tilting At Windmills." The most recent (pictured) came to me earlier this year as a gift from my daughter Molly.
REMEMBERING THE IN-LAWS
So what does a little old Red Hat lady and a bobblehead of former NFL star Kurt Warner have in common? Well, the connection has to do with Jacqueline's parents, my much-loved in-laws, Carol and Jack Benzinger, who passed away ten months apart earlier this decade. Carol was a loud-and-proud Red Hatter, and she had all kinds of reminders around her Iowa home. I especially liked this whimsical figurine, and after she passed, Jacqueline made certain that it came to me.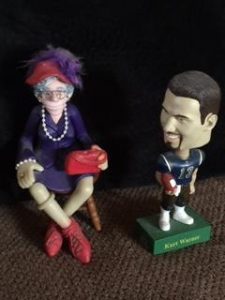 And the bobblehead? Kurt Warner spent part of his childhood in Cedar Rapids, and his mom worked for my father-in-law. To hear curmudgeonly old Jack tell it, he would bounce little Kurt on his knee when his mother brought him into the office. Naturally, he followed Kurt's career through his Super Bowl victory and beyond.
Practical Jack was not the easiest person to buy presents for, most of the time preferring a gift certificate to the local HyVee supermarket. But during one of our Iowa visits I found the bobblehead at an antiques shop, and Jack just about fell apart when I gave it to him. It became one of his most cherished possessions. How could I not have it as a reminder of him?
DO THE DEAD PLAY BASEBALL?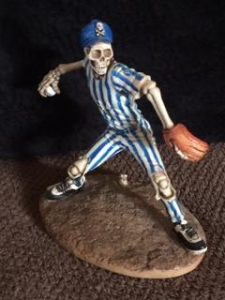 That's either a really dumb question, or a metaphysical one with no particular right or wrong answer. But I do love my Dia de los Muertos (Day of the Dead) pitcher, who looks like he's having a pretty good time. This came to me many years ago as a gift from my daughter Marissa, who found it in an eclectic shop up in the mountain town of Julian. Having been to Julian numerous times through the decades, I have quite a few curious possessions from there.
Did Edgar Allan Poe ever play baseball? I can't answer yes or no to that, although somehow I kind of doubt it. But after returning from an East Coast trip a few years back, during which I had visited the Poe Museum in Richmond, VA, daughter Molly and son-in-law Dave gifted me this Edgar Allan Poe action figure for Father's Day. I will not be parting with it anytime soon, no I won't—Nevermore!
I have barely scratched the surface of my Curious Possessions.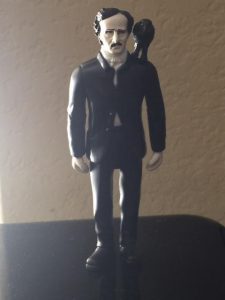 More will be forthcoming in future posts.