This remains one of my favorite baseball movies of all time. I first presented this post in 2016.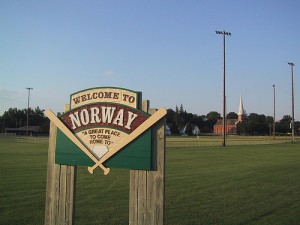 When it comes to the 2007 film, The Final Season, I can't deny that I'm somewhat biased. I love baseball; my baseball-loving bride is from Iowa, where this true story took place; and I'm quite fond of the state, which I've visited numerous times in recent decades. The latter includes trips to two of its baseball shrines: the Field of Dreams in Dyersville, and the town of Norway, population about 500, where baseball truly is LIFE.
A BRIEF HISTORY
Lots of things grow in Iowa, and in Norway this includes growing talented baseball players. Many of their young men went on to play professional ball, and three of them made it to the majors. Through 1990 the Norway High School baseball team won nineteen state titles, many of them under legendary coach Jim Van Scoyoc (pronounced "Skoy").
Then, in 1991, the powers-that-be decided that the small Norway School District would be merged into the larger Benton Community School District, much to the dismay of the entire town. Norway High School baseball would be given one final season before it became a thing of the past. This is where a man named Kent Stock comes in, and it is where The Final Season begins.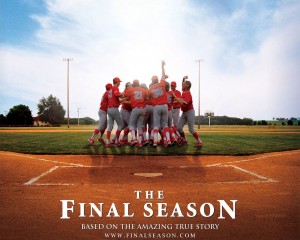 LEARNING FROM THE MASTER
In 1990, young Kent Stock (Sean Astin) takes a short-term position as assistant to Jim Van Scoyoc (Powers Boothe) at Norway High School. A small-town Iowa guy, Kent's long-range plans include landing a job in the big city—St. Louis—after the season is over. He learns a lot from Jim, and the team wins their nineteenth state title. Jim would love for Kent to stay on, but he sticks to his plan.
The team barely has time to enjoy their latest victory when school administrator and all-around asshole Harvey Makepeace (talk about a misnomer) announces that the school district will be merged into a larger one (called Madison in the film), pissing off everyone, especially Jim. Harvey does promise Jim that the baseball team can have one final season representing Norway High School, but he makes it difficult for Jim to continue, and the coach resigns. Harvey is thrilled; without their coach the team is bound to fail, and that will make the transition easier.
"HOW DO YOU WANT TO BE REMEMBERED?"
Jim travels to St. Louis, where Kent now works as a bank teller. He explains the situation and asks Kent to coach the baseball team's final season. True to his Iowa roots, Kent returns to Norway and applies for the job. Harvey is doubly thrilled when he sees that Kent's only experience was coaching a girls' volleyball team and he gives him the job, convinced that the team is doomed.
Things do not start off well for Kent. He cannot rely on the wise counsel of Jim, who left town after landing a job in the Detroit Tigers' farm system. The players, angered over their coach leaving and the prospect of having to go to school somewhere else, are indifferent to Kent, and their win-loss record early in the season is reflective of this attitude. But remember, this is an inspirational sports movie, and Kent's speech to his team says it all:
"We win by playing Norway Baseball; 80% of this game is defense. We don't let anything out of the infield and we wait. Sooner or later, they'll make a mistake. Every person who's ever worn a Norway uniform is out there with you today. Now think about this, no Iowa baseball dynasty has ever won a state championship in their final season. We're playing for everyone who knows that Norway is a great place to come home to. And no matter what happens today, this time next year, the jerseys you're wearing will be polishing chrome in Madison High School. So ask yourself one question: How do you want to be remembered?"
I'll stop here, but as you can guess, it's all uphill from this point, and the journey is a lot of fun. The Final Season also has some neat subplots. Kent first clashes with a state education rep named Polly Hudson (Rachael Leigh Cook), but later on they become real good friends. A rebellious teen from Chicago is sent by his father (Tom Arnold, a true-blue Iowan) to live with his grandparents in Norway and becomes one of the team's key players. (Grandpa is played by the late, great, gravelly-voiced James Gammon.) And the championship game is as inspirational as they come. Talk about a stand-up-and-cheer moment!