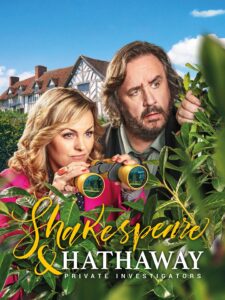 No, we're not talking about William Shakespeare, or his wife, Anne Hathaway—not exactly, anyway. This is about Luella "Lu" Shakespeare (Jo Joyner) and Frank Hathaway (Mark Benton), stars of the delightful BBC British detective/comedy series, Shakespeare and Hathaway: Private Investigators. But in some ways it might as well be about The Bard himself.
IN HIS FOOTSTEPS
The active series, now in its fourth season (and available on BritBox), is filmed in the picturesque city of Stratford-Upon-Avon, birthplace—and final resting place—of Shakespeare. Much of the action takes place along streets and alleyways where The Bard actually walked. Street buskers and actors in period costumes add to the ambiance as they entertain numerous tour groups. But, as noted, the play is the thing, and this mismatched pair makes it work.
In the opening episode, titled "O Brave New World" (all of the episodes are titled by a Shakespearean quote), Lu Shakespeare is about to be married to a man who she suddenly suspects of cheating on her. She hires PI Frank Hathaway to see if this is true. Frank, a former cop, is heavily in debt. His only (under-paid) employee is a young man named Sebastian Brudenell, a Shakespearean-trained out-of-work actor. (Played by Patrick Walshe McBride, this character provides a ton of laughs with his many disguises and other quirks.)
Lu goes ahead with the wedding, despite Frank's warning that this guy is a scam artist who bilks women out of their money. When the guy is murdered, Lu becomes a suspect. She joins Frank in solving the case, at the same time learning that she has an aptitude for deduction. After paying off the grumpy Frank's debts she leaves her gig as a hairdresser behind and joins the firm, thus becoming Shakespeare and Hathaway: Private Investigators. And forward they went, to forty entertaining episodes…and counting.
This series quickly became one of our favorites. And we did not have to "brush up" on our Shakespeare to enjoy it.