For well over a century the artists' community called Yaddo, located in Saratoga Springs, NY, has nurtured creativity by giving talented people the chance to pursue their work uninterrupted within a supportive environment. The "Who's Who" of its residents is staggering. More on that shortly.
Yaddo offers residencies in performance art, writing, film, painting, sculpture, printmaking, and more. Over the decades Yaddo residents have won over sixty National Book Awards, over seventy Pulitzer Prizes, over two dozen MacArthur Fellowships, and countless other impressive awards.
YADDO RHYMES WITH SHADOW
How did such an impressive institution come about? The 400-acre estate was purchased in 1881 by wealthy financier Spencer Trask and his wife, Katrina Trask, a writer. It received its name from one of the Trasks' young children—basically a made up word to rhyme with "shadow."
Sadly, by 1900 all four of the Trasks' children had died. Left without heirs, Spencer decided to turn Yaddo into an artists' and writers' colony as a gift to his wife. Katrina had already found Yaddo to be a spiritual and inspiring place for her own writing. Another philanthropist and family friend, George Foster Peabody, assisted the Trasks in incorporating Yaddo to prepare for its future purpose.
Spencer Trask perished in a train wreck in 1909. Katrina later died in 1922. During her last year of life she was married to George Foster Peabody, who now assumed the role as facilitator of Yaddo. A few years later he hired a young woman named Elizabeth Ames to serve as Executive Director. She would remain in that position for over fifty years, until her death in 1977.
THEY BUILT IT, AND THE ARTISTS CAME
Since its founding, Yaddo has hosted between 5,000 and 6,000 creative artists. As one can guess, a great deal has changed over the century of its existence. But its original mission remains constant: to allow artists uninterrupted time to work under the best of conditions in a highly supportive community.
These are just a few names of artists who have called Yaddo home for either brief or extended periods of time: James Baldwin, Truman Capote, Philip Roth, Flannery O'Connor, Sylvia Plath, Leonard Bernstein, Patricia Highsmith, Mario Puzo, Aaron Copland, and Katherine Anne Porter. Even a Nobel Prize for Literature (Saul Bellow). Like I said: a staggering list.
Residencies at Yaddo range from two to eight weeks. There is no fee for residency, but there is an application fee of $30. For more information visit the Yaddo website.
WRITERS ARE JUST DYING TO GET INTO THIS COLONY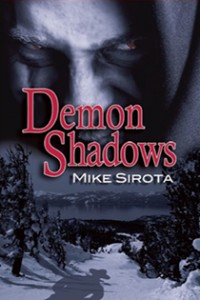 Yaddo became the inspiration for my supernatural novel, Demon Shadows, first published by Bantam Books in 1990 and reissued by Atoris Press in 2011. The prestigious Thorburn Colony, located in the High Sierras of California, has offered residencies to creative artists in all fields for over a century. This is just the place for bestselling novelist Paul Fleming to regain his mojo, according to his literary agent. Seems that Paul hasn't been able to write a damn word since his recent divorce. His ex-wife has primary custody of their two kids, and she's moved hundreds of miles away. Paul is bummed, and he reluctantly agrees to the four-week residency at Thorburn.
For a while it appears that the majesty of the mountain surroundings, and the attentiveness of the quirky but caring staff, is the perfect cure for writer's block. Paul is on a roll.
But the Thorburn Colony is not all that it appears to be. A nearby lake is the site of an unspeakable tragedy that occurred just before the Gold Rush. And now, an ancient horror has returned to collect on an old debt. Paul Fleming had thought the past few months to be hell. But he will soon come to realize that he has no idea what hell really is.
Demon Shadows will be available in eBook for .99¢ on a Kindle Countdown Deal from Tuesday, October 13th through Thursday, October 15th. Enjoy!