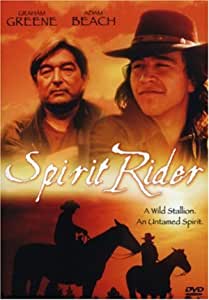 To be accurate, Spirit Rider (1993) could also fall under the heading of "First Nations Film Gems." The territory of the Ojibwa people—also known as the Chippewa—spans portions of Southern Canada and the Northern Plains states. But we're just quibbling here. It has nothing to do with this delightful family story.
CAN YOU COME HOME AGAIN?
Teenager Jesse Threebears, like other kids before him, had been taken from the reservation to be raised by white folks in a series of foster homes. His mother had died when he was an infant. A wild, troubled youth, he becomes even more rebellious when he is returned to the tribe to live with his grandfather.
Joe Moon has also recently returned from serving ten years in prison, and he's not at all comfortable about having to raise his grandson. Awkwardness and anger mark their initial days together. It doesn't help that he immediately finds an antagonist in young Paul LeBlanc, who also had to live with white folks in foster homes before returning to the tribe. He blames Joe Moon—and by extension, Jesse—for the death of his father.
SAVED BY A HORSE
But Jesse also finds some tough-love allies in the St. Claire family: store owner Albert, his wife, schoolteacher Marilyn, and, of course, their teenaged daughter, Camilla. Albert gives him a job , in part to have Jesse pay him back for some goods that he'd ruined. Marilyn helps him navigate his fellow students, while Camilla introduces him to horses, all of which will ultimately aid in Jesse connecting with his heritage. His grandfather will track down his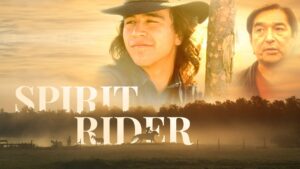 old horse, and Jesse will find himself on the path to becoming the Spirit Rider.
This film being nearly three decades old, we see many veterans of Native American films in early roles. These include Adam Beach, Tantoo Cardinal, Gordon Tootoosis, Michelle St. John, and the great Graham Greene, Academy Award nominee for Dances with Wolves. A made-for-TV movie, the inspiring Spirit Rider is a gem for young and old.