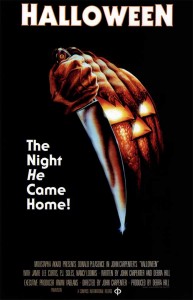 It's that time again. Living in a gated 55+ community, I no longer have to hand out Halloween candy at the front door, since no one does trick-or-treating. These days I spend the holiday enjoying a horror movie marathon…three or four shockers, and sometimes more. The rest of the year, when I watch one scary movie I always balance it out with a comedy or musical afterward. Not on that day; with over two hundred horror movies in my vast DVD library (as well as Netflix and Amazon Prime), I may scare the crap out of myself well into the night, assuming I can stay awake. Here is the for-sure playlist.
HALLOWEEN (1978)
As always, this film is first and foremost on the list. It is THE classic Halloween movie, so popular that they're still rebooting it to this day. Whatever my other choices are, I watch this one every October 31st. The film was director John Carpenter's first major success in the genre, and it launched scream queen Jamie Lee Curtis into a long and successful career. Made on a budget of $300,000, it grossed about $70 million, making it one of the most successful indie films ever. It carries a 94% rating on Rotten Tomatoes, and over a decade ago the Library of Congress selected it for preservation in the National Film Registry as "culturally, historically, or aesthetically significant." All this for a film that barely had a promotional budget back in 1978.
Many people credit Halloween as the first in an endless line of teen slasher movies. Unlike many of its successors, the film has a minimal amount of blood and gore. It is just—well, scary. Its success led to numerous sequels and reboots, including the aforementioned 2018 version. What was original in Halloween became cliché in many of the slasher flicks over the subsequent two decades.
You doubtless know the story. With a tagline of, "The Night HE Came Home!" we have six-year-old psycho Michael Myers—in a clown costume, no less—murdering his sister on Halloween in a small Illinois town. He is committed to an asylum but escapes fifteen years later and returns to his home town to kill some more—on Halloween, of course. Most of his victims are horny teens, but not "good girl" Laurie Strode (Curtis), who will ultimately face off against the "boogeyman." If the tension doesn't get to you, Carpenter's creepy musical score will.
HALLOWEEN 2 (1981)
Well, why not, considering it begins precisely where Halloween ended. It did well at the box office, though it did not earn anywhere near as much as its predecessor and it did not resonate with the critics. Donald Pleasence and Curtis reprise their roles in a film that is more reminiscent of the era's many teen slasher movies. In other words, a lot more blood and gore, which is what turned off many viewers.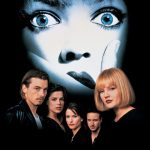 SCREAM (1996)
This popular film, directed by Wes Craven, launched a franchise, created a star in Neve Campbell, and made viewers aware of a Norwegian painter named Edvard Munch. More than just a run-of-the-mill "dice-and-slice-more-idiot-teens" story, Scream breathed new life into the horror genre, which had been on life support for a while due to "slasher overload." Combining dark comedy with a "whodunit" style of mystery and a satirical approach to horror movie clichés, the film resonated with critics and the public alike.
Neve Campbell is Scream's kick-ass main character, Sidney Prescott. I recently thought about her when watching Dwayne Johnson's latest thriller, Skyscraper. Campbell plays Sarah Sawyer, the kick-ass wife of Johnson's character, and it looks like she's still a woman that you don't want to mess with. It will be fun to revisit her career-defining role.
PAY THE GHOST (2015)
Just how much does the ghost want? Well, how about your kid? It appears that girls and boys all around New York City go missing on October 31st. Where do they wind up? That is exactly what Mike Lawford (Nicolas Cage) wants to know after his young son, Charlie,  utters "Pay the ghost" before disappearing during a Halloween parade. Over the subsequent year Mike drives the cops in his precinct crazy as he looks for answers…until the next Halloween approaches, and he begins having visions of a distressed Charlie. Weird…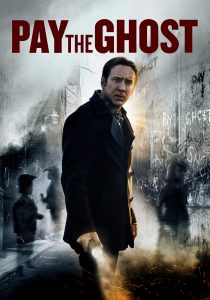 Despite starring Nicolas Cage, Pay the Ghost is not the best or the worst horror movie out there. Cage has been known to have one or two—or eighteen—clunkers during his long career. But it is creepy enough, and hey, it's all about Halloween. So this year it is on the list.
However you spend All Hallows Eve, I hope you have a safe—and scary—one. Happy Halloween!