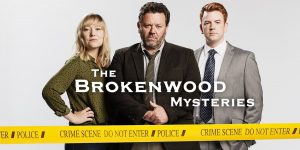 Spending most of our time indoors these days, my bride and I have discovered a number of great shows from around the globe on some of the streaming services. One of our absolute favorites (on Acorn) is the detective drama, The Brokenwood Mysteries. The only negative I can say about it is that there are only twenty-four episodes, and we've seen them all. Waaaa! At least each episode was the length of a feature film.
SO FEW PEOPLE, SO MANY MURDERS
The series takes place in New Zealand, specifically way up north, the closest major city being Auckland. Brokenwood, about 2-3 hours away, is a fictional town of approximately 5,000 people. In the first episode Detective Inspector Mike Shepherd (Neill Rea) arrives in the town to investigate a possible negligent cop, as well as the murder of a farmer—the two might actually be linked. He ultimately decides to transfer from the big city to Brokenwood for a simpler lifestyle, even though the change means a demotion to Detective Senior Sergeant. How could he foresee how many murders will take place in this burg full of quirky characters?
Speaking of which, Shepherd fits right in. Even though he wears a jacket and tie most of the time, he appears unkempt; he makes Columbo look like a GQ kind of guy. He drives a vintage Australian car, which has a tape deck for his huge collection of country music. His crime-solving methods baffle his colleagues, though he always gets his man—or woman. (Quite a few female murderers in Brokenwood.) He has a one-way chat with the corpse at the crime scene, or at the morgue.
IS EVERYBODY QUIRKY?
Shepherd's second in command is Detective Kristin Sims (Fern Sutherland), a thirtyish woman with not much of a life away from her job. She is smart and efficient, and once over the initial shock of Shepherd's weird mannerisms she works well with her new boss.
Detective Constable Sam Breen (Nic Sampson) does most of the grunt work for the team. He is often tasked with seriously awkward interviews/interrogations of potential suspects and witnesses, many of which are downright hilarious.
Also providing her fair share of humor is the town's medical examiner, Gina Kadinsky. While quite good at her job, she is eccentric as hell. A Russian, she never misses an opportunity to praise her homeland for just about every discovery ever made. Over the course of the series she becomes smitten with Mike Shepherd, and she is hardly subtle about her advances, which he manages to ignore.
Secondary characters abound in Brokenwood. Jared Morehu is Shepherd's Māori neighbor. He knows just about everyone in town and often plays some small role in solving the murders. Ditto Mrs. Jean Marlowe, an elderly lady who is a repository of information. Pub owner Ray Neilson also leads the "Lord of the Ringz" tour (Yes, with a "z."), a rip-off for unsuspecting tourists. (One of the murder victims is his wife, who is found cocooned in "Mirklewood" Forest, same as the dwarves in Mirkwood Forest.)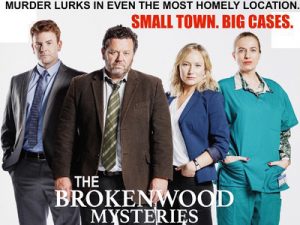 By the way, if you find Kiwi accents challenging, you may want to utilize the closed captioning feature. We became accustomed to the dialogue, though we might have missed a word here and there. For example, we first thought that Mrs. Marlowe was Mrs. "Mallow," until we saw her name on the credits.
Anyway, if you like a good murder mystery in a unique setting with a dollop of humor and lots of quirky characters, give The Brokenwood Mysteries a try. It has run for six seasons, and while a seventh hasn't been announced yet, we've got our fingers crossed.