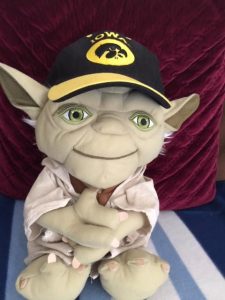 My bride and I (and a certain Jedi Master) are having a grand old time following our two teams during this college basketball season. Our Iowa Hawkeyes (Jacqueline graduated from the University of Iowa) have been ranked in the Top 25 most of the season, quite an accomplishment when you consider that they play in arguably the nation's toughest conference, the Big 10. Their star, Luka Garza, leads the conference in scoring and is averaging a double-double. He is in the conversation for National Player of the Year honors. The Hawks are fun to watch.
Even more incredible, our San Diego State University Aztecs of the Mountain West Conference are 23-0, the only undefeated team in the country, and are nationally ranked in the top five. (We've been season ticketholders for a long time.) Not since the 2010-2011 season with NBA superstar Kawhi Leonard, when they went 34-3 and made it to the Sweet Sixteen, have they had such an awesome season. Their star is Malachi Flynn, but they're so well balanced that he could have an off night and you wouldn't even notice it. We're hoping they go even farther in this year's NCAA Tournament.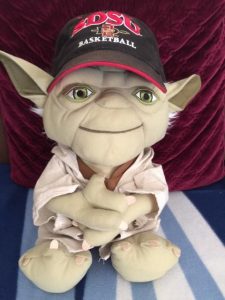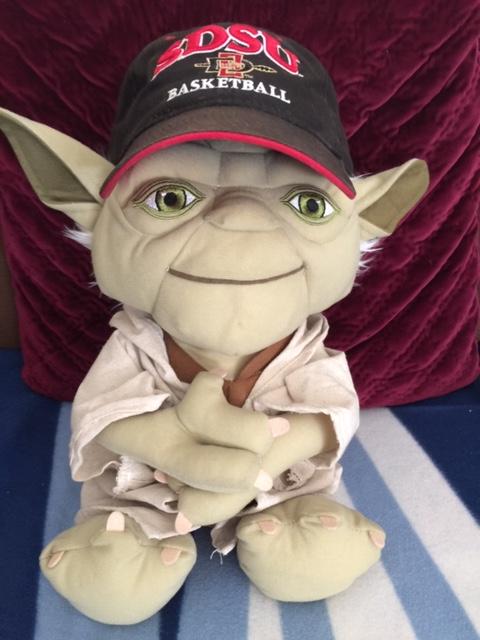 Both our teams are a cinch to make the tournament, so what will we do if they play each other? Well, that already happened this season. The Aztecs and the Hawks met for the first time ever at a tournament in Las Vegas, the Aztecs coming out on top after trailing by sixteen points. Jacqueline and I sat on our hands for most of the game, though we cheered many of the best plays by both. Our attitude was, we couldn't lose. I imagine it will be the same going forward.
Our buddy, Yoda, has watched all of the TV games with us. As you can see, he has a hat for any occasion. Big fan of the Iowa Hawkeyes he is. Big fan of the SDSU Aztecs he is. His advice to both? "Try not. Do, or do not. There is no try."
May The Force be with both our teams come March!