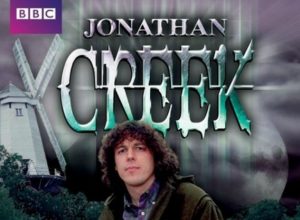 Jonathan Creek is a narrow tributary to a Canadian river. Jonathan Creek is also the title of a venerable British TV mystery series, as well as the name of its lead character. And I must say, this exceptional series deserves its cult following. My only complaint is that, despite running for two decades, there are only thirty-two episodes. Say what?! I'll explain…later.
NO TILTING AT THIS WINDMILL
My bride and I love mysteries, and we've watched a whole lot of them on BritBox and Acorn since the coronavirus rendered us homebound. Jonathan Creek immediately became one of our favorites, given its unique take on the lead "detective," capably portrayed by British comedian Alan Davies. In fact, I knew that I was going to like this show when I heard the opening theme music to the very first episode: a portion of the eerie Danse Macabre by Camille Saint-Saëns, one of my favorite pieces. (It was even the title of one of the episodes.)
Jonathan is a geeky eccentric who lives in a converted windmill in the British countryside. His primary occupation is developing new illusions and other tricks as a creative consultant to "renowned" magician Adam Klaus, a womanizing, often bumbling dipshit who provides a share of the show's humor. Jonathan is actually far more talented than his employer, but he prefers the background to the spotlight.
THE CRIMES
There is usually a supernatural element to the crimes committed in the series, be they murders, thefts, disappearances, etc. These, of course, are right up Jonathan's alley. "Locked-door" mysteries are a staple of the genre, and there is a fair share of them in the series, though often with a twist.
For example, in an episode titled, "No Trace of Tracy," a retired rock star, Roy Pilgrim, enters his home, is knocked unconscious by an intruder, and awakens to find himself handcuffed to a radiator in his vast hallway. At the same time a teenager named Tracy is on her way to visit Pilgrim, her idol. From outside, a group of horny schoolboys watch the girl enter through the front door. Inside, the only thing Pilgrim sees entering his house is a frog. When finally freed, Pilgrim is suspected of Tracy's kidnapping and possible murder. What just happened? Leave it to Jonathan Creek to figure it out, as he usually does about 5-10 minutes before the end of every show.
THE WOMEN
Jonathan always has an accomplice alongside him, one that usually helps to get him into closed crime scenes. For the first three series, which ran from 1997 to 2000, his "collaborator" was Maddy Magellan, an aggressive freelance crime writer and sometime love interest. In the first "special" (movie-length episode) in 2001, and the fourth series in 2003-2004, he teamed with former girlfriend Carla Borrego, currently the host of a reality TV crime series. After a five-year hiatus for the series, Jonathan joined online paranormal investigator Joey Ross for three specials between 2009-2013.
Series 5 consisted of three hour-long episodes in 2014 with a much older Jonathan Creek now married to his fourth collaborator, Polly Creek. He no longer lives in the windmill, nor is he involved in magic and illusion, but is instead a businessman. Kind of weird, but whatever. He is still drawn to the same types of inexplicable crimes, especially after they move to a rural village.
A final, one-off special aired in 2016. Did I say "final"? I hope not. A few years earlier Alan Davies said that he wouldn't mind doing the show for another decade. But as of right now, nothing is planned. I do hope Jonathan Creek will return, even if it's just for another one-off story. If that happens I won't do the Danse Macabre, I'll do the Happy Dance!