"Oh, you're a writer, but what do you do for a living?"
Well, if you are a writer, you've probably heard that question in one form or another. I sure did, even more so than the one directed at my four horror novels. Unfortunately, in my case it was a valid question that I needed to answer. Especially after I lost my champion at Bantam Books and subsequently needed to find a way to pay the bills.
FIRE DANCE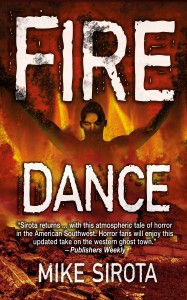 Before my editor left, I had proposed a third horror novel, this one a ghost story that took place in the bleak Anza-Borrego Desert of Southern California. I called it Madhouse and sent off a few chapters and a synopsis. The editor said yes, Bantam would publish it, and told me to go ahead and write the rest of it, something that—at the time—I would not do without a contract in hand. But I trusted her, so I finished the book. By that time, the publisher had buried my second book, The Well, shortly after its release. The new book never saw the light of day with them.
Flash forward quite a few years, during which I had a rewarding career as a writing coach and editor. I had tweaked the book, now called Fire Dance, a few times, but mostly it just sat dormant, until a small start-up publisher expressed interest. A few years after its publication I got back my rights to Fire Dance and released it under my own imprint, Atoris Press.
In a nutshell, the story opens in 1878 at Concordia Sanitarium, an asylum where patients—mostly elderly and suffering from dementia—are housed. Nearly all of them are benign, save for a depraved monster, Bruno Leopold, who is chained in the basement. The director, Dr. Cooke, is experimenting with Bruno, who murdered a bunch of people, to try and learn the reason for such aberrant behavior. A fire destroys Concordia, killing over sixty people and trapping their spirits in the ruins.
In the contemporary story a small town called Smoke Tree, occupied by mostly senior citizens, has been built near the ruins. Beneath the sand the spirit of Bruno Leopold is reborn, and his sole thought is to kill again. Main characters Mark Alderson, a fugitive on the run, and Tracy Russell, a woman who has come to Smoke Tree to be with her dying mother, are drawn into a scenario that they can hardly comprehend.
I hesitate to say more about Fire Dance, at the risk of giving too much away. The book received a positive review in Publishers Weekly. It is available in eBook and paperback on Amazon.
THE BURNING GROUND
With the writing muse back in my corner, I dug out a proposal for another Native American-themed horror novel that I had written years earlier. I had called it The Burning Ground, based on the burial rituals of the small Maidu tribe, which existed in and near the Sierra Nevada mountains before being decimated by Gold Rush miners. It involved the desecration of Native American gravesites, an issue that exists to this day.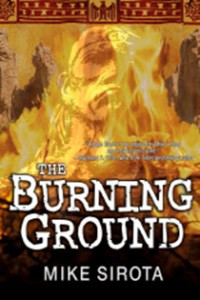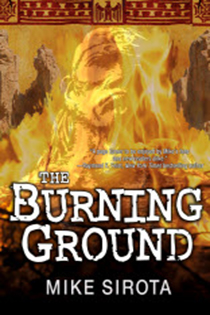 In a lengthy opening chapter that takes place in 1849, Gold Rush miners come to the north fork of the Yuba River in the Sierra foothills, not far from a Maidu village. Initially the miners and the Indians get along, the latter even working for the miners in trade for trinkets and whiskey. A series of misunderstandings escalates into the miners killing everyone in the village. The miners are in turn massacred by…something.
The contemporary story take place in the town of Lodestar, near the site of the earlier incidents. Main characters Barry Cordell, a former big-league pitcher, Dana Bowen, an emotionally scarred woman, and ten-year-old Billy Grider are drawn into a nightmare generated by the actions of Billy's lowlife father, Ray Grider. This "thief of time" has taken artifacts from a number of Indian burial sites in the past, but when he hits the Mother Lode—the burning ground of the Maidu village from the opening chapter—he unleashes an unthinkable horror on the town and its surroundings.
It would be an injustice to reveal more. Check out my blog post, The Burning Ground Interview. You can order The Burning Ground from Amazon in eBook or paperback.