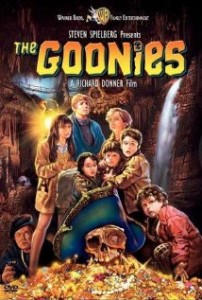 Never has that iconic line from the 1985 comedy/adventure, The Goonies, been more true than last week. Stage and screen star Josh Gad (The Book of Mormon, Frozen), a huge fan of the film, succeeded in facilitating, via Zoom, a virtual reunion on YouTube with just about all of the original cast members. The event was dedicated to those who have since passed away, including Anne Ramsey (Mama Fratelli), John Matuszak (Sloth), Mary Ellen Trainor (Mrs. Walsh), and Lupe Ontiveros (Rosalita).
To say that this group enjoyed seeing one another again would be an understatement. Lots of reminiscing, as well as reciting verbatim some of their best lines. One classic monologue is included below.
Joining the cast members were director Richard Donner (ninety years old!), screenwriter Chris Columbus, and producer Steven Spielberg. Even Cyndi Lauper, who sang the title song, made an appearance.
Josh Gad was four years old when he first saw The Goonies, and he became a lifelong fan. So did I, the difference being that I was thirty-nine! This film was a joy for kids of all ages, and it seems to get even better with time. In 2017 it was chosen for preservation in the U.S. National Film Registry by the Library of Congress as "culturally, historically, or aesthetically significant." Quite an honor.
One takeaway from the reunion was the often addressed question of a sequel to The Goonies. The answer: more than likely not. At best, the original residents of the "goon docks" would probably have cameos as parents of a new crop of Goonies. They were perfectly cast back then, and as one of the participants said during the reunion, how can you improve on that? The same was true of Spielberg's E.T.: The Extraterrestrial.
A huge "thank you" to Josh Gad for organizing this reunion. It is the first podcast in what he has named "Reunite Apart," a charity fundraiser to aid people during the coronavirus pandemic. Check it out on YouTube, if you haven't already seen it.
The Goonies cast in the photo on the right includes (top row, l-r): Josh Gad; Sean Astin (Mikey); Josh Brolin (Brand); Corey Feldman (Mouth). Middle row, l-r: Martha Plimpton (Stef); Jonathan Ke Huy Quan (Data); Kerri Green (Andy); Jeff Cohen (Chunk). Bottom row, l-r: Joe Pantoliano (Francis Fratelli): Robert Davi (Jake Fratelli); screenwriter Chris Columbus; director Richard Donner.
"IT'S OUR TIME!"
Along their quest for pirate treasure, the Goonies arrive at the bottom of a well. Brand's antagonist, Troy, is all set to haul them up in a bucket. Most of them are ready to abandon the search, but not Mikey:
"Don't you realize? The next time you see sky, it'll be over another town. The next time you take a test, it'll be in some other school. Our parents, they want the best of stuff for us. But right now, they got to do what's right for them. Because it's their time. Their time! Up there! Down here, it's our time. It's our time down here! That's all over the second we ride up Troy's bucket."
So on they went, into cinematic history. Mikey Walsh was right: "Goonies never say die!"