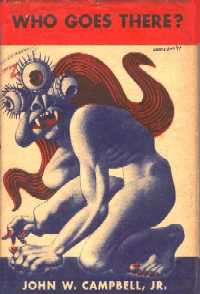 A magazine called Astounding Science Fiction, later renamed Analog Science Fact and Fiction, was highly influential in bringing the sci-fi genre into the mainstream many decades past. One of its editors, John W. Campbell, also wrote for the magazine, and in 1938 he published a novella titled, Who Goes There? The popular story, a hybrid combination of science fiction and horror, would later be adapted to the big screen in 1951 as, The Thing from Another World. Ditto in 1982 as, (John Carpenter's) The Thing, and in 2011 (a prequel) simply titled, The Thing (see my post, "Thing 1, Thing 2, Thing 3").
Campbell originally titled his story Frozen Hell and, unknown by just about everyone, he'd written it as a full-length novel. He shortened it for publication in Astounding, and it has remained that way—until now. A writer named Alec Nevala-Lee, while researching his own book, Astounding: John W. Campbell, Isaac Asimov, Robert A. Heinlein, L. Ron Hubbard, and the Golden Age of Science Fiction, learned that Campbell had donated a box of manuscripts to the Houghton Library at Harvard. That is where he discovered the original, novel-length manuscript for Frozen Hell. All I can say is, "Wow!"
The project is being funded by Kickstarter and will include eBook, paperback, and hardcover versions from a small press. For full details check out an article by Andrew Liptak on The Verge website.