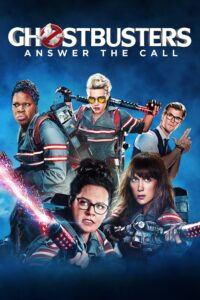 A while back, when I ranked the Jurassic Park/Jurassic World films, I mentioned that it was not a matter of Worst to First, given that I did not think any of them sucked. Good to Great was more like it. The same thing holds true for the four Ghostbusters movies. This will be presented in ascending order. And remember, this is all IMHO.
#4 – GHOSTBUSTERS: ANSWER THE CALL (2016)
This entry in the series, after a hiatus of twenty-nine years, featured an all-female main cast—four exceptionally funny performers, including Kristen Wiig, a personal favorite. Knowing that women were going to take the roles played by guys in the original film doomed this entry before it even hit the silver screen. To me, that sorta reeks of sexism, yes? I totally enjoyed this version (did I mention Kristen Wiig was in it?), which offered many hilarious—as well as ghostly—scenes.
Many reviewers seemed to agree with the positive aspects of the film, but it could not overcome the early fan backlash. It became a box-office bomb, and any thoughts of a sequel went down the tubes. So we will not be seeing Kristen Wiig and company reprising their roles. Still, Ghostbusters: Answer the Call had plenty going for it, including Chris Hemsworth (yeah, Thor!) as their idiot secretary, and Neil Casey as seriously creepy villain Rowan North.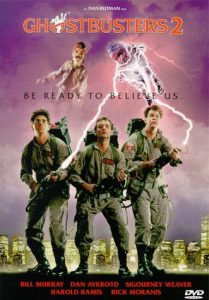 #3 – GHOSTBUSTERS II (1989)
This was, by far, the worst-reviewed film in the series, likely because it often got compared to the original. And yeah, some of the subplots were downright silly: the slime river under the Big Apple, created by the bad feelings and ill will of New Yorkers; the Statue of Liberty saving the day, and so on.
But it also had a seriously creepy villain in Vigo the Carpathian, and a hilarious performance by Peter MacNicol as museum curator Janosz Poha. And most of all, it was the last time that ALL of the original cast would appear together. Harold Ramis (Egon) passed away, and Rick Moranis (Louis Tully) would take a hiatus from acting. It did well at the box office, but some cast members—primarily Bill Murray—thought that the gag had run its course. Still, Ghostbusters II was a fun film that did not deserve many of its bad reviews—IMHO, of course.
#2 – GHOSTBUSTERS: AFTERLIFE (2021)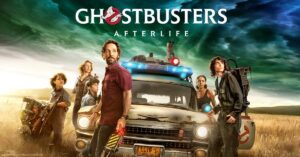 Even though this new film billed itself as a sequel to the first two, I went into viewing it with some trepidation. While I knew that what remained of the original cast—Bill Murray, Dan Aykroyd, Ernie Hudson, Sigourney Weaver, even Annie Potts—would be reprising their roles, I wasn't on board with having teens and pre-teens as the new Ghostbusters. Let me tell you: I was pleasantly surprised.
First off, the film honors the late Harold Ramis in a number of ways. At the beginning we "see" him as an old man on the run from some nasty specters, who cause him to have a heart attack and pass on. He is further honored toward the end of the film by his fellow Ghostbusters, and I will not give away any part of this moving tribute.
McKenna Grace, as Egon's brainiac granddaughter, 12-year-old Phoebe, steals this film. She and her mother, Callie (Carrie Coon), Egon's estranged daughter, and brother Trevor (Finn Wolfhard) inherit Egon's run-down ranch in Oklahoma, where Egon settled after learning that old "friends" Zuul, Gozer the Gozarian, and other horrors from the other side would be making their appearance into our world there. It is left to Phoebe, Trevor, and their friends—with the assistance of the old Ghostbusters—to prevent this from happening.
The reviews for Ghostbusters: Afterlife were fairly good, and its box office encouraged the producers to go ahead with sequels. Dan Aykroyd said that the original cast members were on board about doing additional films in the series. We shall see.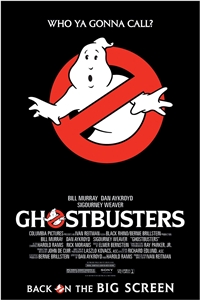 #1 – GHOSTBUSTERS (1984)
This is a no-brainer. "Who ya gonna call!" What can I say about this gem, which holds a nearly perfect rating on Rotten Tomatoes? I can't imagine anyone in the world who hasn't seen it. The Ray Parker, Jr. theme song still gets stuck in my head every once in a while, and probably yours too. The film is funny, scary, exciting, and has something for everyone. It also featured some great special effects for its era. Ghostbusters was the second-highest grossing film of 1984, and at the time the highest grossing comedy ever.
The original project was conceived in 1982 by Dan Aykroyd and John Belushi. They would play time travelers battling all sorts of supernatural villains. After Belushi's death, the studio deemed the project too expensive and impractical, so Aykroyd went back to the drawing board. Ghostbusters became the result. I'd have to say, great decision. I will be watching this wonderful movie every year or so until the Mother Ship arrives!