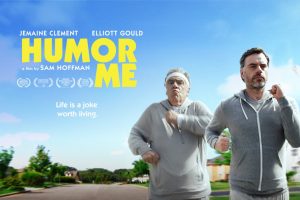 I can't say that the 2018 comedy, Humor Me, did poorly at the box office. That's because it did almost NO box office. It just sort of came and went, and we all missed it…and that's a shame, as it definitely is funny, and at times even poignant.
FROM ACCLAIMED WRITER TO HAS-BEEN
A while back, playwright Nate Kroll could have punched his own ticket on Broadway after writing an award-winning play. But now he has spent years on his next opus, and it still is not completed. This pisses off his producer, who tells him to get lost. And given his obsession with trying to finish the play (and providing no income), it has alienated him from his wife, a successful art dealer, and his young son, whom Nate adores. With little fanfare, wife and son head off to live in Europe indefinitely.
Broke and homeless at age forty, Nate first asks his successful businessman brother if he can crash with him. No way; the brother and his wife just had triplets. That leaves the desperate Nate with only one option: move in with his father, who lives in a New Jersey retirement community called Cranberry Bog.
LAUGHING THROUGH LIFE
Bob Kroll (Elliott Gould) has gone through life telling one joke after another, and constantly pretending to have a heart attack. This caused a rift between him and son Nate, who perceived his dad as laughing his way through his wife's long bout with cancer before she passed away. Nate believes his father is still in denial about his mom's death, even questioning Bob about why he has none of her things around his house, and why he has a girlfriend. This does not look like a good match, especially since Bob is carrying a grudge that we don't learn about till later.
Bob reluctantly allows Nate to stay, but only if he takes a job at the retirement community under a tough old ex-Marine. Nate gets to fold towels, clean out locker rooms, swab floors, and other fun stuff like that. He continues to try and finish his play, but the going is slow.
THREE LITTLE MAIDS FROM SCHOOL
Cranberry Bog has a theater troupe, and they're in rehearsal for Gilbert and Sullivan's The Mikado. When they learn that a theatrical luminary such as Nate Kroll is living there, they recruit him to direct the play. He agrees, only because it is better than cleaning out locker rooms.
The three primary "actresses" are an absolute hoot. One of them, a former "courtesan" by her own admission, tries to seduce Nate, who is half her age. A second, who performs all of her numbers with her walker, is an ornery little cuss who swears that she is related to a major Broadway producer.
And then there is Dee (Annie Potts—"Ghostbusters, whaddya want!"), who goes overboard trying to set Nate up with her daughter, Allison—the only woman there even close to Nate's age. Allison, at present the troupe's musician, is sort of on house arrest after a drug conviction and cannot wait to get away from her mom after "doing her time." She and Nate are not soul mates as much as they are cell mates, but a relationship does seem inevitable.
A REVEALING VIDEO
Years earlier, Nate had made a video of his award-winning play and presented it to his father. After Nate moved in and asked about the video, Bob claimed to have no idea where it wound up. Now, one of the women has found a copy, and with Nate they gather to watch it. No surprise: the gut-wrenching play is about a woman dying of cancer while her husband, in denial, jokes his way through the ordeal. The women are stunned, and Bob, who shows up as they watch, is enraged—as he has been all these years. After screaming at Nate he clutches his chest, and Nate tells him to stop screwing around with another fake heart attack. Only this time it is for real…
No spoiler alert; there is plenty to be resolved, and all of it is worth waiting for, I kid you not. Humor Me did garner its share of positive reviews, and I found it totally entertaining. Give it a shot.