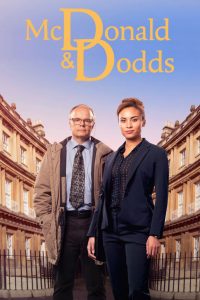 McDonald & Dodds, a BritBox original series, is a crime drama set in the city of Bath, about ninety-odd miles from London. The quirky show—not a comedy, but hardly as intense as Silent Witness or Vera—highlights the trials and tribulations of women—specifically Black women—and seniors in the good-ol'-boy world of law enforcement. I suppose this is what attracted us to the series in the first place.
AN UNLIKELY PAIR
Newly minted Detective Chief Inspector Lauren McDonald (Tala Gouveia) has come from the big city to take on her new assignment for the West of England Constabulary in the picturesque tourist city of Bath. Being a woman—a Black woman, no less—she is not exactly welcomed with open arms, especially by her boss, Chief Superintendent John Houseman (James Murray), a true asshole. McDonald knows that she has to be better than perfect to make an impression, which often leads to some uncertainty on her part while investigating the latest murder.
In an effort to make her job even more untenable, Houseman assigns long-in-tooth Detective Sergeant Dodds (Jason Watkins) to assist McDonald. Dodds (no first name) has been on the force forever but has not advanced much beyond his desk. The superintendent is certain he'll drag McDonald down.
At the start, this unlikely pair function like oil and water. McDonald is a dynamo, Dodds is a drone. An old bachelor, he has his share of annoying habits, including an addiction to chips (French fries) smothered in butter, which drives the health-conscious McDonald nuts. But, as she will soon learn, Dodds has an under-valued deductive mind that ultimately will prove a great asset in solving their murder cases. His research skills are nothing short of amazing.
THE BRITS LOVE THEIR MURDERS
Given the plethora of murder mysteries that air in England, we're often surprised by the new and unique ways they find to kill a person, not to mention the solutions to the crimes. For example, in one episode of McDonald & Dodds five people take off in a hot air balloon and are observed from the ground. But after passing over a dense forest and making an emergency landing, only four folks are left in the basket. Wha' happen?
In another episode, a popular fashion vlogger dies on the operating table while undergoing a nose job. Someone poisoned the anesthetic, which means the killer had to be one of the four people in the room: the surgeon, the anesthesiologist, or one of the two nurses. Right? Hmmm…
The ancient city of Bath is as much a character in the series as its two protagonists. Named after the Roman-built baths, the city became a spa in 60 AD following the discovery of its hot springs. It is one of the most-visited sites in England, and the show's directors take full advantage of its beautiful buildings and surrounding countryside with many sweeping overhead shots.
At present McDonald & Dodds consists of two seasons, a total of five episodes, each one the length of a feature film. The two episodes of season one served as a pilot. Season two just premiered in America on BritBox, and the show has been renewed for a third season, which we were pleased to learn. Check it out.