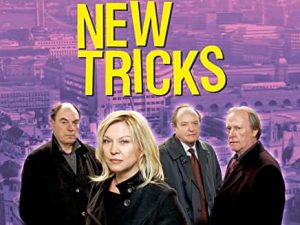 While hanging out in the quarantine cave for most of this year, my bride and I have watched a lot of police procedural/detective shows on BritBox, Acorn, and Prime. They range in presentation from intense (Broadchurch, Mystery Road, Prime Suspect) to outrageously funny (Agatha Raisin). Somewhere in the middle, joining favorites such as Midsomer Murders and The Brokenwood Mysteries, is the delightful BBC production, New Tricks (which leans a bit closer toward Agatha Raisin). The series ran from 2003 to 2015 with over one hundred episodes—great for binging.
"DOESN'T REALLY MATTER IF YOU'RE OLD AND GRAY"
That line comes from the show's opening theme song, and trust me, it will get stuck in your head. It aptly identifies the premise, which is as follows.
Detective Superintendent Sandra Pullman, a forty-ish single woman on the fast track in the (fictional) London Metropolitan Police Service, is slightly derailed by a raid gone bad. She is reassigned to head a unit called UCOS (Unsolved Crimes and Open Case Squad), focusing on cold cases from a few years to decades back. Her team consists of three retired detectives: her mentor, Jack Halford; Brian Lane, a reformed alcoholic with a steel-trap memory; and Gerry Standing, an old-school cop who often got results in unorthodox ways.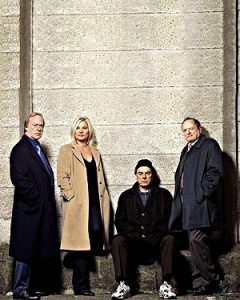 Pullman's crew, including herself, all come with baggage, and some of the show's more serious moments revolve around their various issues. But for the most part these three old guys are an absolute hoot, and while they often piss off some of the stuffy top brass, as well as Pullman, they always resolve the cold cases—even though they might bend the rules of procedure a bit.
As an old fart myself (actually, I prefer young fart) I totally enjoy seeing guys that had been put out to pasture stepping up and showing that they still have what it takes. Check out New Tricks, starting with its pilot episode, a full-length TV movie with a brilliant denouement. You'll find it on Prime Video.