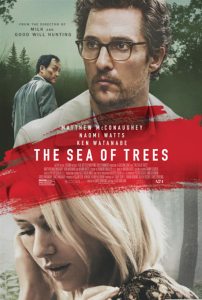 If you're a movie buff, you would probably jump at the chance to see a film starring Oscar winner Matthew McConaughey and Oscar nominees Naomi Watts and Ken Watanabe, three outstanding actors. Well, they all performed in the 2015 drama, The Sea of Trees, and I'll bet that most of you didn't see it. For that matter, hardly anyone else in the world did either. And I think that's a shame. More on that shortly.
A PLACE TO DIE
The title of the film comes from one of the descriptions of Aokigahara, the vast woodland area at the base of Mt. Fuji, also known as Japan's Suicide Forest. I wrote about The Sea of Trees earlier this year. That nickname is derived from what it looks like when gazing down from the mountain.
A quick recap: Aokigahara is the most "popular" suicide site in Japan, and arguably the world. Japan in general has a notoriously high suicide rate, and for centuries despondent people have journeyed to Aokigahara with no intention of coming back. The most common methods used in the forest are hanging and drug overdose. Estimates range from thirty to one hundred successful suicides each year, though often bodies are not discovered for a long time, if at all.
Aokigahara has appeared in a number of movies, usually in genres such as horror and fantasy. The Sea of Trees is neither, although I found something…well, magical in it. Unfortunately, the critics did not feel the same. On the contrary, most of them were brutal. Have they all gotten that jaded?
A DEPRESSING PREMISE?
Perhaps this premise is what kept people away. We join a sad-looking, scruffy Arthur Brennan (McConaughey) as he boards a plane in the states with nothing but the clothes on his back. He flies to Tokyo, finds transportation to Aokigahara and begins walking into the forest. He leaves the main path and, ignoring a warning sign, plunges deeper into the creepy woodland. Surely he will get lost, but he doesn't care, because it is obvious that he's journeyed there to kill himself.
Arthur sits down and removes some items from his overcoat: a water bottle, a prescription bottle of pills, and an unopened mailer addressed to Joan Brennan (Watts), his wife. As he starts to take the pills, he is interrupted by a man named Takumi Nakamura (Watanabe), who is crying and moaning a short distance away. Arthur, a decent fellow, is compelled to go to his aid, leaving the mailer behind (a key plot point for later).
A number of flashbacks indicate what might have brought Arthur to Aokigahara. Some years back he had a brief affair, and while still together with Joan, their relationship is a nightmare. She is an alcoholic, and they are constantly at each other's throats. The early assumption is that she finally left him, and he became despondent.
SURVIVAL AND SELF-REFLECTION
Takumi, as Arthur learns, did something at his job that dishonored him, and his shame brought him to Aokigahara. He'd slit his wrists but not deeply enough, and after deciding that he loved his family too much to suffer death, he'd been trying—without success—to find his way out of the Sea of Trees. He is cold, dehydrated, and exhausted. Arthur decides to delay his own suicide to help Takumi find a way out of the forest. And now that he has begun his own self-reflection, perhaps Arthur is also looking for a way out.
Eventually relying on each other, the two men struggle for survival in the dense, forbidding forest as they share their respective stories. They endure flash floods, freezing temperatures, falls, and everything else Aokigahara can throw at them, but they are unable to find the main trail. In one of Arthur's flashbacks during this time we learn that Joan had been diagnosed with a life-threatening illness, and our next assumption for why he has come to the Suicide Forest seems clearer…
But this is where I'll stop, because to reveal anything after we learn this—and believe me, there is much more still ahead—will cause you to come after me with a bunch of other torch-bearing Angry Villagers. The Sea of Trees stayed in my head long after I watched it. I hope you will check it out, at least on Netflix or equivalent. Never could I mean the following more strongly: screw the critics!