This is definitely one of my Native American Film Gems. I first wrote about it in 2013.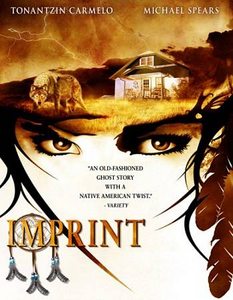 A supernatural Native American-themed thriller? I liked Imprint even before I first watched it. But this 2007 indie film, which garnered a ton of awards, transcends any categorizing by genre with its gripping story and powerful performances by an outstanding, mostly Native American cast.
Produced by Chris Eyre (Smoke Signals, Skins) and directed by Michael Linn, Imprint stars Tonantzin Carmelo as Shayla Stonefeather, an ambitious young prosecuting attorney. Shayla, a Lakota, has left the Pine Ridge reservation in South Dakota for the bright lights of Denver, and she's even dating one of her colleagues, an oily WYS (White Yuppie Scum) guy named Jonathan. If it seems like she's abandoned her people, who consider her an "apple"—red on the outside, white on the inside—well, it gets even worse when she successfully convicts a Lakota teen of murder. The boy, who is innocent, tries to escape shortly thereafter and is killed.
Shayla travels back to the Rez, partly to escape the media circus, but also to see her father, who is dying. Sam Stonefeather, once an excellent artist, exists in a near vegetative state, a haunted look on his face. His detachment from reality seems to have begun when Shayla's brother, Nathaniel, disappeared—or perhaps was murdered, as some believe—a while back.
The welcome that Shayla receives is hardly a warm one. In addition to struggling with the reality of her fading dad, her car is spray-painted overnight with the word, "Apple." Even her mother, Rebecca (an excellent Carla-Rae Holland), who loves Shayla dearly, is disappointed in her daughter for not wanting to do more for her people. Her main ally is ex-boyfriend Tom, now a reservation cop.
A traditionalist, Tom believes Shayla when she says that she heard noises at night in the house and witnessed a ghostly figure moving around. Tom thinks that the spirit of the Lakota teen she convicted has appeared, but Shayla is more inclined to believe that this vision has something to do with her missing brother.
Before long her visions have grown even more frightening, and there seem to be additional figures moving around in what had been her brother's room. Shayla's father briefly comes out of his torpor to sketch something dark and terrifying, apparently something that he witnessed. He dies shortly thereafter.
All along, Shayla has struggled to reject her Lakota roots and its inherent mysticism. But as the mystery deepens, she can no longer deny it. A number of times she has observed a wolf watching her, and twice her old, beloved horse—which the family sold to a neighbor—has shown up at her door, the second time to revive her after she knocks herself unconscious while fleeing the most frightening vision yet. The two animals take her to a cemetery (the Wounded Knee cemetery, I believe), where an old medicine man convinces her to trust her spiritual side, to have faith in who and what she is.
To tell you anything beyond this moving scene would be to cheat you out of great climax. Despite its "supernatural thriller" label, Imprint is not a horror movie, so if you're looking for blood and gore, you'll be disappointed. But for powerful drama, this film is a cut above.