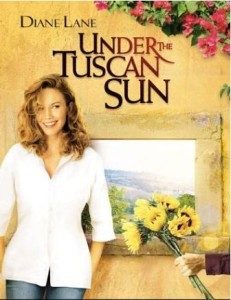 Authors who come out of their writing caves do have some interesting life experiences. This post first ran in 2018.
In 1996 Frances Mayes, a writer, book reviewer, teacher, and foodie extraordinaire, published a memoir—replete with recipes—called Under the Tuscan Sun. The book spent over two years on the New York Times bestseller list, a remarkable achievement. A romantic comedy-drama "loosely based" on the book was inevitable, and that came about in 2003, with Diane Lane giving an excellent performance in the lead role.
GAY AND AWAY
A brief synopsis, with a spoiler alert in place: we join Frances in San Francisco at a book launch for one of her former writing students, who praises her for her guidance. She is quite proud of this. (I can certainly relate to that.) Everything is going well in her life.
But not for long. Her husband has gotten a young woman pregnant, and he wants a divorce. Suddenly single, bummed out and unable to write, she moves into a depressing little apartment building where other soon-to-be-divorced folks live.
Frances's best friend, a lesbian named Patti (Sandra Oh), announces that she is pregnant. She and her partner, Grace, had booked a tour of the Tuscany region in Italy, but given Patti's condition, they decide to gift their ticket to Frances. She is hesitant at first but then decides that a trip might do her some good.
So off she goes on a customized tour called "Gay and Away," the only straight person in the group. The tour bus makes a stop in the picturesque Tuscan town of Cortona, and Frances is charmed by the place. She also catches her first glimpse of a vibrant, free-spirited woman named Katherine, an aging British actress. Before getting back on the bus she sees a posting in the window of a realtor's office about a villa for sale.
IT WAS MEANT TO BE
A short distance from town, the bus stops for a couple of minutes—right in front of the villa for sale. Taking this as a sign, Frances gets off the bus. She meets the elderly owner of the place, and the realtor, Signor Martini, and on an impulse she makes an offer, which is accepted.
Buyer's remorse quickly sets in as she spends her first few days in the ancient, crumbling villa, a fixer upper if there ever was one. The helpful Martini befriends her, and she confesses that her dreams are to live in the restored villa surrounded by family, and to have it someday host a wedding, and for her to find love. Martini tells her a story about how railroad tracks were laid over the Alps before a train existed that could cross the mountains, but eventually one was built. She also takes this as a sign and is determined to renovate her new home in the hope of making her dreams come true.
Frances hires a crew of Polish immigrants to help repair the villa, and over time becomes close with them. She also befriends her Italian neighbors, a large, extended family, as well as Katherine, who encourages her to be aggressive in looking for love and not wait for it to come to her. She begins cooking again, and all her friends—especially the workers—eat quite well. When her friend Patti shows up—her partner ended their relationship—about ready to have her baby, Frances is ecstatic.
DO DREAMS COME TRUE?
Taking Katherine's advice, Frances has a romantic fling with a man named Marcello, who lives in another town. She hopes it will turn into something more, but when she travels unannounced to visit him, she finds him with another woman. End of that story. She returns to Cortona, distraught.
But romantic love, she finds, does exist. One of her workers, a young man named Pavel, and the daughter of her Italian neighbors, are very much in love. But the girl's father does not approve of Pavel, because he is Polish and has no family. Not true, Frances tells him. She is Pavel's family, as are the other workers. They are soon married—in a ceremony at Frances's villa.
At the wedding, Frances looks at the guests who have gathered at her now glowing Tuscan home: Patti, her best friend, with her newborn baby; the young newlyweds; Katherine; her Polish workers; her neighbors; and, of course, Signor Martini, who had told her that the train would start running after the tracks were built. There is a wedding at the villa, and she is surrounded by her new family; two of her wishes have come true.
But Frances is melancholy. What about the wish she made for herself? As she sits by herself lost in thought, an American man named Ed appears. He heard that she lived in Tuscany and came to meet her. Seems that he's a writer, and Frances had once reviewed a book he'd written. "Best bad review I ever received," he tells her.
"One Year Later" we see that she has been writing again. And at another family gathering, a radiant Frances has Ed at her side. The train over the Alps has completed its journey.
As I said before, the film version of the book was "loosely based" on the real-life experiences of Frances Mayes. But I do know this for fact: she's married to a guy named Ed, and they spend time in their two homes, one in the states, the other in Cortona, Italy. It appears that dreams do come true under the Tuscan sun.