Hardly anyone saw this heartwarming film, and that's a shame. I first presented the post in 2018.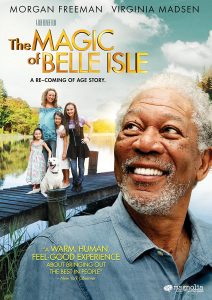 It is hard to imagine any film starring Morgan Freeman, one of my favorite performers, bombing big-time. But if you go by the box office receipts of the 2012 comedy-drama, The Magic of Belle Isle, you'd have to wonder if anyone saw it. Add to that the film reviewers who wrote negatively about it (how jaded they must be), and you'd pretty much have a Guilty Pleasure. Not so, because this delightful, heartwarming film is well-acted and conveys a number of meaningful messages. I couldn't help smiling through most all of it, and especially afterward.
WRITER'S BLOCK CAN LAST A LONG TIME
Freeman portrays Monte Wildhorn, a well-known writer of numerous western novels. He had once been a talented minor league baseball player, but on the day of his call-up to the majors he was involved in an accident with a drunk driver. He lost the use of both his legs and one arm, and only the love of a wonderful woman helped him move on. His stories about a lawman named Jubal won him a huge following.
At the time of the story Monte's wife had passed away six years earlier. He has not written a word since then, and he is an alcoholic. His nephew, in an attempt to help Monte, lands him a summer gig as a house-sitter and dog-sitter in the lakeside resort town of Belle Isle. Monte is not too thrilled that his nephew brought along his old manual typewriter. All he cares about is that he has his privacy—and enough booze.
Though curmudgeonly, Monte is not unfriendly to the town's quirky residents. He connects with a mentally challenged young man named Carl by appointing him his sidekick. Over time, Carl will come out of his shell.
USE YOUR IMAGINATION
Charlotte O'Neil (Virginia Madsen) lives next door to Monte with her three daughters: teen Willow, nine-year-old Finn, and soon-to-be-seven Flora. A New Yorker, Charlotte has relocated to her old home town while going through a divorce.
The precocious Finn is building a raft in order to sail to a small island in the middle of the lake. Despite Monte's grumpiness, she asks him if he would teach her how to write stories. He offers to tell her a secret: he's really not handicapped, he's just pretending to be in order to fool the insurance company and receive lots of money. She appreciates his confidence in her, until he says that it was just a story that he made up. If you use your imagination, he tells her, you can create stories about anything.
Charlotte invites Monte to dinner, and there is a hint of sexual tension between them. Monte is especially smitten when Charlotte plays the piano for him. She asks why he stopped writing, and he says that his character, Jubal, allowed Monte to do all of the things he could not do in real life, but he wasn't that same person anymore.
THE ELEPHANT IN THE ROOM
Finn wants to learn more about writing stories and even pays Monte all that she has, about thirty-something dollars. Seeing that she is serious, Monte tells her to look down the road and tell him what she cannot see. Finn doesn't understand and is frustrated at first, but soon she starts to get it and makes up a great story about an adventure she had with Carl. Monte says that she is now learning to write.
Before long Monte is passing on the booze and is sitting in front of his ancient typewriter. He starts to write, just a short story about an elephant and a mouse family. Earlier, Flora mentioned that she loved elephants. He takes the story with him to Flora's birthday party, where the girl and her sisters are disappointed that their father did not show up. He cheers the girl up by reading her the story.
That evening, Flora asks her mom to read her the story again. When Charlotte does, she realizes that it is an allegory for Monte and her family. What the hey, does Monte like her as more than just a neighbor? A second story soon after hints that the elephant is falling in love with the mouse. Oh my!
JUBAL ON THE BIG SCREEN?
Finn had purchased a used copy of Monte's last Jubal book. Its final page is missing. Along the way she has asked Monte a number of times why he won't write about Jubal anymore, and when she learns that he's been writing stories for Flora, she grows angry with him and goes out of her way to avoid him.
Monte's frustrated editor has been trying to reach him all summer, but Monte won't return his calls. One day he shows up in Belle Isle, bringing with him a famous Hollywood actor. This guy wants to buy the rights to the Jubal books and play him in the films. Monte stands to reap a huge windfall from this deal, but he turns the guy down. He doesn't want to complicate his life, which right now has taken a turn for the better.
Monte has a dream: he and Charlotte are sitting by the lake, sipping wine in the moonlight. He stands up (whoa!), they dance, then they kiss. Wow…
There is more to come, but I don't want to spoil it for anyone, so I'll stop here. The Magic of Belle Isle is just that, magic, and in these trying times, what's wrong with a bit of uplifting escapism?