Sherlock Holmes is absolutely one of my favorite fictional characters. This post first ran in 2015.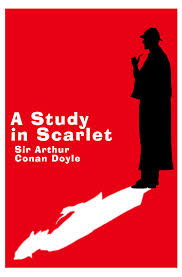 Victorian-era writer Sir Arthur Conan Doyle created two of the most memorable characters in all of fiction: amateur sleuth Sherlock Holmes and his chronicler, Dr. John Watson. Their adventures spanned four novels and over fifty short stories. Obviously, there had to be a first story—which brings me to A Study in Scarlet, a remarkable novel, and quite a way to launch a career.
THE GAME IS AFOOT
(Yes, I know that line belongs to Shakespeare, not Doyle, but which one would most folks have guessed?) Dr. Watson narrates the stories in the first person, or more specifically, first-person agent POV. In Part I of A Study in Scarlet, Watson has returned from serving in a war in Afghanistan and is seeking inexpensive lodgings in London. A friend introduces him to the quirky Holmes, and the two wind up sharing a flat at the iconic address of 221B Baker Street.
It is here that we learn of Holmes's incredible powers of deduction, his work as a "consulting detective" to Scotland Yard, which often calls on him to help with baffling cases, and his remaining in the shadows while less than competent inspectors take the credit. It is the latter fact that makes Watson determined to chronicle those cases so that Holmes receives his just due.
At the risk of giving too much away—after all, this is a mystery—I'm not going to detail any of the plot. What makes A Study in Scarlet so unique, especially for its time, is the manner in which Doyle presents it. Following the exposition involved in bringing Holmes and Watson together, we learn about two separate murders that appear to be related. Scotland Yard inspectors Gregson and Lestrade ask Holmes for his assistance, but ultimately these two doofuses ignore his input and believe that they've arrested the killer. Wrong-o. Part I, which spans seven chapters, ends with Holmes summoning the real killer to 221B Baker Street and revealing him to Watson and the stunned cops.
IT AIN'T OVER TILL…YOU KNOW
Wait, what? The crime is solved, and there is an entire Part II—seven more chapters—left to read? I had to stop and ponder this for a while, wondering where Doyle would go with what seemed a completed story. Finally, I turned the page.
To repeat myself: wait, what??? First, while Part I had no title, Part II was called, "The Country of the Saints." And even more puzzling: from a first-person narration in 1881 London, England I suddenly found myself in the territory of Utah in 1847. Reading a scene told in the third person.
True story: given that I was reading A Study in Scarlet on a Kindle, I thought that something had gone wrong and that I'd accidentally downloaded some other book—a western, Zane Grey or Louis Lamour, something like that. What I was reading now told of a man and a young girl, the only survivors from a wagon train where everyone had died of thirst and hunger. Near death themselves, the two are rescued by a band of Mormons and taken into the fold. Though dramatic, I could not guess what this had to do with Sherlock Holmes and two murders in Victorian London.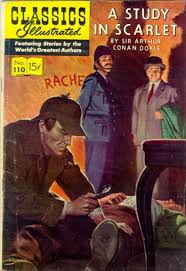 Then, revelation! The last names of a couple of the Mormons matched those of characters in Part I. Doyle had made the basic connection, and as the riveting story in the first five chapters of Part II progressed, the entire backstory of what led to the murders in 1881, far "across the pond," was revealed. No specifics here; as I said, I don't want to give anything away. But as chapters six and seven return us to Dr. Watson's first-person narration for a denouement, I found myself blown away by what Doyle had accomplished with A Study in Scarlet.
OUTSIDE THE BOX
In contemporary times, crossing first-person and third-person POV in a story was pretty much a no-no, until James Patterson went against the grain with his Alex Cross thrillers. As a long-time writing coach and editor, I used to urge novice writers—and even skilled ones—to stay within the lines and utilize a single POV in presenting their stories. Over time, I went outside the box with writers that I felt were skilled enough to handle this device. I still support writers who are bold enough—and talented—to take a chance.
It surprised me to find that Sir Arthur Conan Doyle, a relatively novice writer at the time, had taken such a chance in his presentation of A Study in Scarlet. It turned out to be a hell of a pleasant surprise.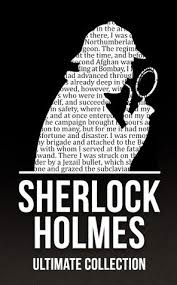 WHAT A DEAL!
A while back I downloaded Sherlock Holmes: The Ultimate Collection, onto my Kindle. The collection contains all four novels and each of the fifty-six short stories written by Doyle—for a whopping ninety-nine cents! How could you go wrong with that deal? You may have read some or all of Sherlock Holmes back in the day. But it's fun to revisit classics such as this. Happy reading!