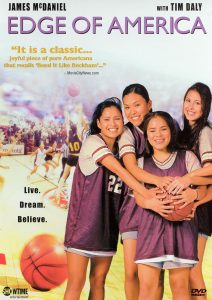 Native American reservations sit along the edge of America, a part of this country…but then again, not really. (This post first ran in 2017.)
Outstanding director Chris Eyre (Smoke Signals, Skins) took a true story and turned it into Edge of America, a 2003 made-for-cable film. On the surface it appears to be an inspirational sports movie, but that is only a small part of the big picture.
A FISH OUT OF WATER
Educator Kenny Williams (James McDaniel), in need of work, accepts a job teaching English composition at the Three Nations High School in Utah. An African-American, he is an angry man who, having been raised in Texas, was bused to a mostly white school. Kenny knows discrimination, and he experiences more of it when he arrives at the school. Students call him Kareem, while the principal, not knowing he had hired a Black man, looks at him like he's the new janitor (Kenny's assessment).
Still, Kenny begins working with his new charges, most of whom view school as a waste of time. He will eventually win them over, though the journey presents a real challenge. Along the way he meets the older, wiser Cuch (the always excellent Wes Studi), a jack of all trades who works at the school and also runs an auto repair shop. Cuch first does a minor fix on Kenny's old car, and when Kenny complains about the bill, Cuch rips it up. All he asks of the new teacher is to keep his two nieces on a positive path in school.
COACH WILLIAMS
One night, Kenny wrecks his car trying to avoid an animal on the road. (Cuch will eventually fix it up as good as new.) His injuries are minor, but in order to deal with the unexpected medical expenses he accepts an assignment to coach the girls' basketball team: the much-maligned Lady Warriors. At one point we see the inept team, coached by teacher Annie Shorty (Irene Bedard), lose a game by eighty points. Kenny has his work cut out for him.
But the new coach, driven by his anger and other demons, is determined to change this losing culture. First, he recruits three new players, though along the way he learns the kind of life issues with which Indian girls must deal. Shirleen works at a truck stop restaurant to help her family and thinks that basketball, at which she excels, is a waste of time. Carla presents a tough exterior to hide the pain of losing her mother and having to live with an alcoholic, verbally abusive father. Alvina, called "Baby," is the daughter of an elder who, as a traditionalist, had taken her out of school rather than have her be "witched" by the white man's ways.
THINGS ARE LOOKING UP
With these new players, and a good deal of disciplined practice, the Lady Warriors start to win their games, which excites much of the Rez. Kenny is still learning about the Indian Way, and missteps create tensions between him and his players, as well as assistant coach Annie Shorty. But based on a contract that he made with the girls, they are staying out of trouble and also maintaining good grades. Kenny manages to appropriate funds to buy them new uniforms and sneakers.
One of their only subsequent losses comes at the hands of an all-white high school from Zion, an undefeated team and winner of numerous state championships. At this game Kenny sees first-hand the kind of racism with which the Native Americans must deal, reminiscent of what he encountered as a kid in Texas. After the game a wealthy Zion booster accuses Kenny of having his team play "jungle ball," to which he replies in kind. The booster then complains to the Three Nations High's principal, demanding a written apology from Kenny. On the verge of quitting rather than agree to this—just as the team is close to qualifying for the state championship tournament—Kenny accedes to the wisdom of Cuch and signs the letter. The Lady Warriors play on.
No spoiler alert; I will leave you here, just as the team is one win away from qualifying for the tournament. If they make it in, they may get to play that nasty high school from Zion one more time. Kenny Williams still has some lessons to learn about life on the Rez. Seventeen-year-old Shirleen will announce that she is pregnant, angering him. Baby's mother, the elder, will burn cedar in the locker room to help the team win; Kenny will insult her, and she will again pull Baby out of school.
Overall, Edge of America is a well-acted, entertaining, and inspirational film that offers a unique look at life on a Native American reservation from the point of view of an African-American. I love this movie and highly recommend checking it out.