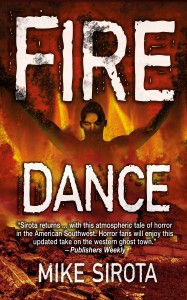 I first ran this post in 2014, around the time I reissued my two ghost stories. This one tells the tale of many benign ghosts—and one murderous spirit—in the Anza-Borrego Desert.
PRAISE FOR FIRE DANCE: "Sirota returns…with this atmospheric tale of horror in the American Southwest. Horror fans will enjoy this updated take on the western ghost town." – Publishers Weekly, 12/6/10
As many of you know, I'm big on second chances. (Check out my first post ever, "It's All About Second Chances.") When I got a second chance at life some years back I decided to take another chance and start publishing novels again. Initially I published two ghost stories, the desert-themed Fire Dance and the Native American-themed The Burning Ground, both with a small, start-up publisher. Now that some time has passed and I've taken back my rights to both books, I've put them out under my own Atoris Press imprint. Fire Dance was the first of the two to be reissued.
"Mike Sirota is an absolute pro of a writer, and even for non-aficionados of ghost stories, these pages sing." – JOHN LESCROART, New York Times bestselling author.
The setting for Fire Dance is one of my favorite places, the bleak but surprisingly beautiful Anza-Borrego Desert in Southern California, about eighty miles from my home in Oceanside. It was there that Concordia Sanitarium stood, home to the mentally ill—mostly elders suffering from senile dementia—until a fire leveled the adobe buildings in 1878. All of the staff and the inmates perished…
…including the monster in the dungeon, the deranged mass murderer named Bruno Leopold.
There, in the sand amid the ruins, the tormented spirits remain trapped—until over a century later, when one of them decides to free himself from his prison and renew his atrocities in the nearby, unsuspecting town of Smoke Tree.
With that kind of build-up, you may not believe that Fire Dance is a love story—but it is. Mark Alderson, a decent man with a troubled past, has made Smoke Tree his temporary home while on the run. Tracy Russell, a single mom, has traveled there with her son to spend time with her dying mother. How these two come together, and how they become involved with the spirits of Concordia Sanitarium, are key plot points in this fast-paced tale.
August McLaughlin, author of In Her Shadow, blogger extraordinaire, and great friend, said it best, I think: "This book grabs you from the get-go. It starts with a haunting, original story that could itself be made into a movie. It'll stay in your mind throughout the book, which felt more like stepping into an entire world than a novel. I was equally struck by the realness of the characters, the places. There were no 'jumping cats,' as they say in the film business; every bit makes perfect, rational sense, even the ghosts! The way the characters and story are woven together is mind blowing… Odd as this may sound, it read more to me like a symphony than a book.
"Once the love story took off, HOLY SCHMOLEY. You'll read faster and have an even tougher time putting it down. I thank (Mike) for writing such a fun, readable book. It reminded me of the reason I first fell in love with reading in the first place—no better, or cooler, escape. Already eager for his next one."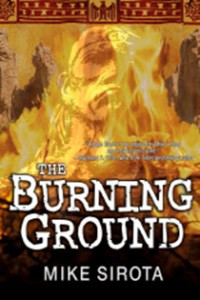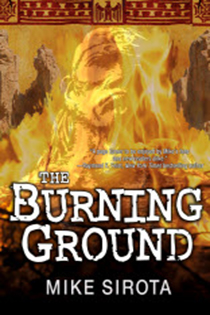 The newly revised Fire Dance is available in eBook and paperback. Ditto The Burning Ground. Enjoy!