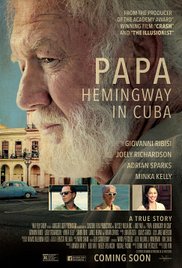 Hardly seen by anyone, this film is an excellent study of a great writer. I first presented the post in 2016.
I first saw this 2016 film six months ago, during a limited release in the U.S. I'm talking real limited—hardly in any theaters, and in most cases for no longer than a week. But no way was I going to miss a film about one of our greatest—and most messed up—writers.
Actually, Papa: Hemingway In Cuba is less about Ernest Hemingway than it is about another writer, Denne Bart Petitclerc, who wrote the screenplay for this film prior to his death a decade earlier. That's because this true story is HIS story, and it is a remarkable one.
AUTHORS DO READ THEIR FAN MAIL
Perhaps for the sake of simplicity, Petitclerc becomes Ed Myers (Giovanni Ribisi) in the film, which takes place in 1959. Myers is a young journalist and aspiring author who works for a newspaper in Miami. Due to a troubled childhood—his father abandoned the family during the Depression, and his mother sent him to an orphanage—Myers is also a bit messed up. He cannot find his literary voice, and despite being in love with a woman named Debbie (Minka Kelly), who also loves him, he is commitment-challenged and on the verge of losing her.
Earlier, Myers came to journalism after reading the works of Ernest Hemingway, his favorite author. He writes a fan letter to Hemingway and is stunned when the great man phones him and invites him to come for a visit to his home in Cuba. Hemingway, played by Adrian Sparks—an actor who has often portrayed the writer in a one-man stage play—even picks Myers up in Havana on his boat and takes him to his compound at Finca Vigía. (Much of the film was shot at Finca Vigía, where Hemingway lived from 1939-1960. It is now a national museum.)
CONSIDER YOURSELF ONE OF THE FAMILY
Myers quickly bonds with the vivacious but neurotic Mary Hemingway (Joely Richardson), the author's fourth wife, and with Hemingway himself. He becomes friend and confidante to both and often bears witness to their sometimes loving, mostly tumultuous relationship. Myers' close friendship with Hemingway develops after the two of them are pinned down by gunfire outside the Government Palace in Havana, where Fidel Castro's rebels battle soldiers loyal to Batista.
At this stage of his life the hard-drinking Hemingway is seriously depressed and suicidal. (He would kill himself in 1961 after moving to Ketchum, Idaho.) Still, he is able to help Myers discover his literary voice, beginning with a series of articles bringing to life the revolution in Cuba.
The film depicts Hemingway as a rebel sympathizer, even to the point of smuggling guns for the cause. This makes him persona non grata with not only the Cuban government but also the FBI. It is said that J. Edgar Hoover had it in for the great writer. Hemingway leaves for Idaho not long after. "Ed Myers" returns to Miami and makes a strong commitment to his beloved Debbie. The great man has taught him about passion.
THE REAL AFTERMATH
Denne Bart Petitclerc would later adapt Hemingway's novel, Islands in the Stream, as a screenplay for the 1977 film. He wrote many scripts for the popular television series, Bonanza, as the show's executive story editor. Petitclerc had an extensive list of film and teleplay credits. It is interesting to note that he also moved to Ketchum, Idaho—where Hemingway took his own life—in the 1970s, and he lived there for the last thirty-five years of his life. Prior to that, he donated his collection of Hemingway's letters to Sonoma State University in California.
I imagine that, had Petitclerc lived, he would have been disappointed with the tepid response to Papa: Hemingway in Cuba. Its short-lived run gave it a so-so box office, and the critics were not especially kind—though audience polls were mostly positive. Now that it has been released on DVD, it will hopefully garner more exposure, which I strongly feel it deserves. And if you happen to be a writer searching for your voice—or even if you've found it—this is a must-see film.