This was a memorable visit to Edgar Allan Poe's old haunts, to be sure. The post first ran in 2016.
During a recent trip back east I stopped by the Poe Museum in Richmond and caught up with my old friend Edgar. I thoroughly enjoyed this fascinating tribute to a great writer and… Wait, what? Richmond, Virginia? Like many others I always associated Edgar Allan Poe with Baltimore, so why would a museum honoring him be located in a city more renowned for being the capital of the Confederacy?
HE GOT AROUND
To further confound the issue, Edgar Poe was born in 1809 in Boston to a couple of actors. The following year his father abandoned him and two of his siblings, and a year after that his mother died from tuberculosis. The siblings were subsequently separated, with Edgar being taken in (but never formally adopted) by John and Frances Allan of Richmond. He took his middle name from his foster parents. Edgar would spend much of his childhood and teen years in Richmond, and during his abbreviated life of forty years he would return there a number of times. The city has every right to claim him as a native son.
In subsequent years Poe's travels as a journalist, as well as a writer/poet, would take him back to Boston, and also New York, Philadelphia, and of course Baltimore, where some of his relatives lived. Despite the popularity of his works, poverty followed him from city to city throughout his life. (Regarding New York, his last few years were spent in the Fordham area of The Bronx—my old 'hood.) On a trip to Philadelphia in October of 1849 he stopped in Baltimore. No one knows why he came there, but within a week or so he was dead. His grave is located in that city at the historic Westminster Hall and Burying Ground.
"QUOTH THE RAVEN…"
Poe's most famous work is "The Raven," a narrative poem first published in 1845. A distraught narrator is slowly descending into madness as he grieves for his lost love, Lenore, and if he isn't already having a really bad day, he is visited at midnight by a creepy talking raven. That would definitely speed up the process.
While Poe never realized much financial success with "The Raven," it has stood the test of time to become one of the most renowned poems in literary history. Many famous artists, including Édouard Manet and Gustave Doré, have produced celebrated artwork from the poem. But none of these works could top the great body of "Raven" illustrations done by a relatively obscure artist named James Carling.
THE RAVEN ROOM
The exhibits in the Poe Museum had already captivated me, but they hardly prepared me for what I discovered at the top of some creaky stairs on the old building's second floor. There, in what is known as the Raven Room, hung a series of illustrations both dark and disturbing—literally and figuratively. This, I learned, was a small sample of the forty-three illustrations based on "The Raven" by British pavement artist James Carling.
Born a few years after Poe's death, Carling lived a brief twenty-nine years, about half of them in America before returning to England near the end of his life. Billed as "The Fastest Drawer in the World," Carling produced his Raven illustrations around 1882 and entered them unsuccessfully in a competition to illustrate a new version of the poem. After his death a brother kept them in storage for four decades. The Poe Museum, which opened in 1922, subsequently acquired the illustrations, and they've been on display, in full or in part, ever since.
Having been blown away by the illustrations on display in the Raven Room, I hurried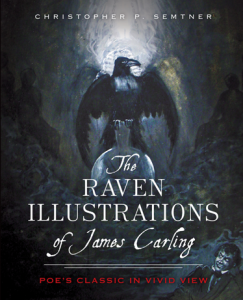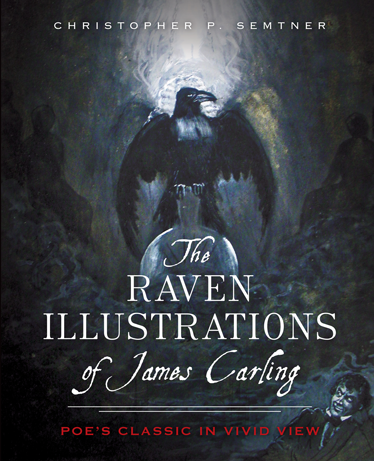 back (through the pouring rain) to the museum's gift shop in the hope that they carried a book showing the complete collection. Success! The Raven Illustrations of James Carling: Poe's Classic in Vivid View, by Christopher P. Semtner, contains chapters about Poe in general, about "The Raven" in particular, about the brief life of James Carling, and ends with all of the forty-three Raven illustrations, each matched up with a corresponding line or stanza of the poem. It is an awesome addition to any collection, especially if you're a fan of Edgar Allan Poe. You can order it from the Poe Museum store, which helps support this nonprofit organization, or from wherever else you buy books.
And, of course, if you ever get to Richmond, make the Poe Museum a must-see.