This post is about a special day I spent during one of my best weeks ever. It first ran in 2015.
"You should always go to other people's funerals, otherwise they won't come to yours." – Yogi Berra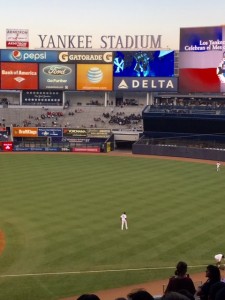 Jacqueline, my baseball-loving bride, suggested we go and see a ballgame at Yankee Stadium when we traveled to New York City for a wonderful family wedding/reunion in late September. Buying the tickets online in advance gave me this really weird feeling. Why? Let me explain.
NOT YOUR FATHER'S YANKEE STADIUM
For starters, I was born and raised in The Bronx. I left in 1967 after graduating college, and I had not set foot in NYC's northernmost borough since then. That's forty-eight years, for crying out loud!
Also, this was not my Yankee Stadium, the place in which I practically grew up, the famed House that Ruth Built. This lookalike, which opened in 2009, stands a block north of the old stadium, now the site of a park.
And least of all, although I lived and died with the Yankees while growing up, I haven't much cared about them since George Steinbrenner bought the team in the '70s. By this time I had thrown in my lot with the San Diego Padres, and they are still my baseball passion.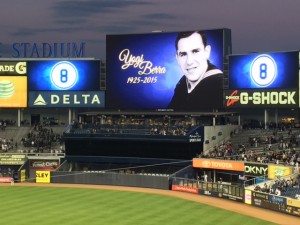 A SOMBER DAY
But what the heck, as the day drew closer for us to catch the "D" train in Manhattan up to 161st Street, I accepted the fact that I would be going "home" again. I even started to get a bit excited about it.
Then, on the day before the game, Yogi Berra died at the age of ninety.
As a kid, my heroes were mostly Yankees: Mickey Mantle, Whitey Ford, Elston Howard, Roger Maris—and Lawrence Peter Berra, the greatest catcher of all time, according to many. Known as much for his goofy quotes (who could forget, "It ain't over till it's over"?) as his baseball prowess, Yogi was one of the nicest people on the planet, much beloved everywhere, but especially in New York.
MONUMENT PARK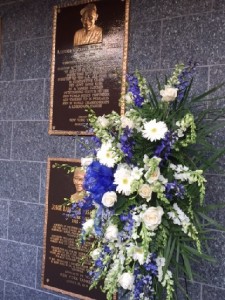 The game we chose to attend would be the first home game for the Yankees following a long road trip, so we had no doubt that Yogi would be honored by the team and the faithful. From the minute we entered the stadium, nearly two hours before first pitch, there were ongoing video tributes from old friends and teammates, and highlights from his career. (Who could forget the image of Yogi jumping into Don Larsen's arms after the pitcher's perfect game in the 1956 World Series?) And that was just the beginning.
At my old Yankee Stadium, a number of stone monuments to Yankee greats stood on the playing surface in deep center field, over 450 feet from home plate. In the new ballpark an area called Monument Park, accessible to all visitors, houses old and new monuments, as well as many plaques. There, alongside Yogi's plaque, the team had placed an impressive wreath (pictured).
TEARS AND CHEERS
Yogi's number 8, long since retired by the Yankees, was painted on the field along the third- and first-base lines. The moving pregame ceremony included a huge number 8 wreath being placed atop home plate, and a soldier playing "Taps." I spotted quite a few fans—older men, in most cases—batting away tears.
Yogi Berra lived a long and full life. While he might be gone, he will never be forgotten. On this night he might have said what he did years earlier when the Yankees honored him: "I want to thank everyone for making this night necessary."
As for me: getting off that "D" train, I suppose that I held back a few tears. I guess you can go home again.